Saquon Barkley Yelled at Fans From Sideline During Giants Loss to Dolphins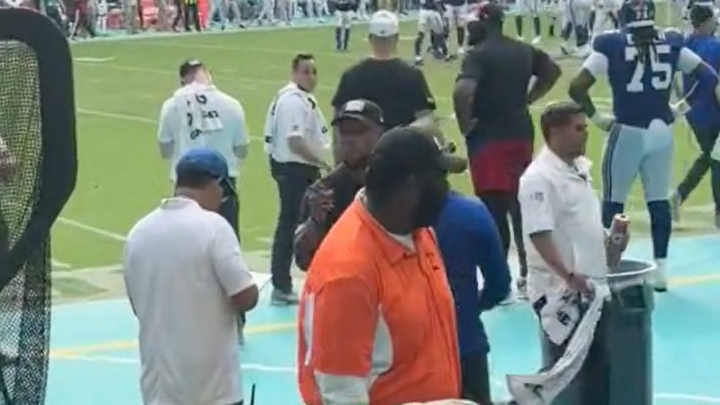 Saquon Barkley /
The New York Giants were in Miami on Sunday to play the Dolphins and it went about as expected. While the Giants' defense did what it could to keep things close the offense couldn't do much of anything before Daniel Jones exited with a neck injury. The team's struggles on that end were not helped by Evan Neal forgetting how to block or the absence of Saquon Barkley, who missed his third consecutive game with a high ankle sprain.
It seems someone who attended the Giants-Dolphins game was giving Barkley the business while he was in street clothes on the sideline because a video went viral afterwards of the All-Pro running back snapping at someone in the stands. You can faintly make out the curse words Barkley is using.
Normally this passes without comment from any of the parties involved but Barkley felt the need to chime in. He said he was defending Jones and the fan he yelled at knew they were in the wrong.
Yet again we are surprised this doesn't happen more often. Fans say all sorts of nasty things from the safety of their seats and football players are human. They can only go so long before needing to respond.
Things are not great in New York but at least teammates are still sticking up for each other.