Jameis Winston Getting a Harvard Education While the Saints Get a Masters in Economics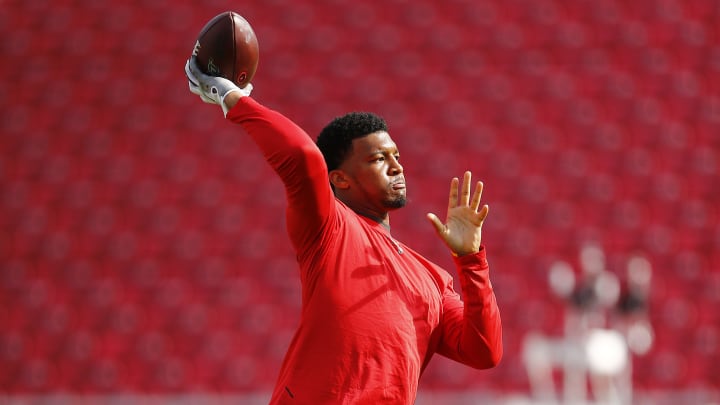 Michael Reaves/Getty Images
The New Orleans Saints have created a low-risk, high-reward masterpiece in signing Jameis Winston to an extremely economical deal. We knew that before details of the contract were released. But now, armed with that information, it's time to marvel. ESPN's Field Yates reports:
Winston has lived hard football years. So much so that it can be surprising to realize he's only 26. And we've seen the flashes of brilliance. The turnover problem is very real, but one does not lead the entire NFL in passing yardage without some skills. There's a track record of Sean Payton turning a middling career into gold and quarterbacks reducing their interceptions after moving on from a Bruce Arians' offense.
So far, Winston has said the exact things you'd want him to say while facing a complete career reset.
""Being a part of the New Orleans Saints -- being a part with Drew Brees, Taysom Hill, Sean Payton, coach Joe Lombardi, coach Pete Carmichael Jr. -- when you think about that room, that's like a Harvard education in quarterback school," Winston said Tuesday during an appearance on "Chalk Talk" with Charlie Ward on Instagram Live. "So I wanted to put my ego aside -- put the money to the side -- to think about my family, think about my career. And there was no better position than to be in the same room with someone that I've really looked up to, that I've admired since I've been playing this game, in Drew Brees.""

- Jameis Winston via ESPN
Brees' days are numbered as evidenced by his impending accord with NBC Sports. Despite an extremely strong faction pushing for Taysom Hill as the answer in the future, an improved Winston is the best option.
For the Saints, this is literally a what the hell do you have to lose situation. Consider the fact that the Philadelphia Eagles panicked and took Jalen Hurts in the second round as a seatbelt for oft-injured Carson Wentz. Raise your hand if you think a rookie is more ready to win now than Winston should both be pressed into duty.
I've always been higher on Winston than most but a fair-minded person has to admit there's at least a small sliver of hope that he can turn in 8-10 more productive years at the position. New Orleans bought super low and can harbor high hopes without mortgaging either the future or present.
They may not be the actual Harvard or even the Harvard of the South, but they look damn smart with the potential to look brilliant in the long run.