Ryan Reynolds, Rob McElhenney Get Emotional After Wrexham Promotion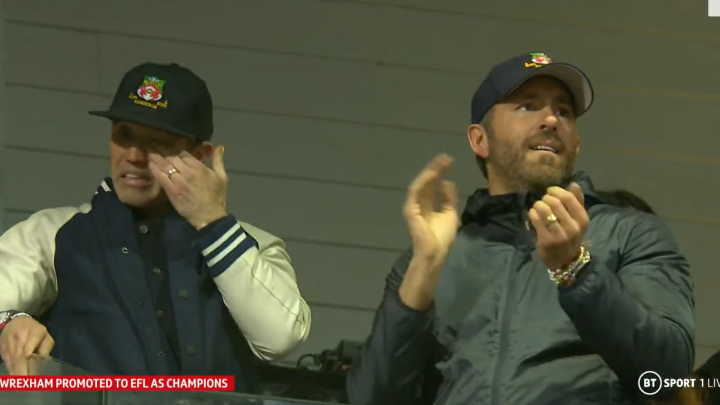 Ryan Reynolds and Rob McElhenney /
After 15 years, Wrexham will finally break out of the fifth division of English football as the club's win today guaranteed promotion to the English Football League. Unlike some recent games, this one was in hand down the stretch after Paul Mullin's second goal of the match put Wrexham up 3-1 in the 72nd minute.
As you might expect, this did nothing to dull the crowd's enthusiasm and they rushed the field after the final whistle. The camera panned to a very emotional Ryan Reynolds and Rob McElhenney, the latter of which was caught wiping tears from his eyes. Absolute scenes, you might say.
Just an awesome moment. Ryan and Rob can talk on camera all they want about how much they care about the success of the club for non-financial reasons but nothing hits home like their faces in that video.
America's favorite fifth-tier soccer club is now America's favorite fourth-tier soccer club.