Latest NFL Leads
Ryan Clark Ripped Chase Claypool's Selfish Play, Calling Him 'Mentally and Emotionally Underdeveloped'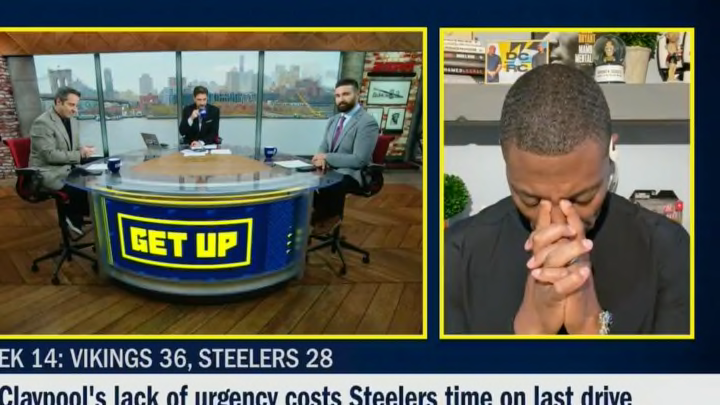 The Pittsburgh Steelers lost to the Minnesota Vikings in primetime on Thursday Night Football. The game ended with the Steelers failing to complete what would have been the biggest regular season comeback in NFL history. They could have had one more play, but Chase Claypool celebrated when there was no time to celebrate. This morning on Get Up, Ryan Clark appeared pensive and upset while absolutely destroying Claypool for his actions on the field.
"Chase Claypool is as mentally and emotionally underdeveloped as he is physically overdeveloped. This is a dude that has all of the things that you need from a physical standpoint to be a superstar wide receiver. He has a remedial level mental understand of what it is to be a football player, of what it is to be a good teammate. Of what it is to be a winner."
Clark went on to call Claypool out for doing his thing instead of the team's thing. And instead of taking responsibility, throwing his teammate under the bus. Clark continued:
That's what's wrong with this team. No accountability. No thumbs pointing at me to say I'm the reason. Well, I'm going to tell him. Chase Claypool ,that's on you. That's your problem. Just like the personal foul in the first quarter. Just like the personal foul late in the game against the Cincinnati Bengals. He only cares about himself. And that self-centeredness is part of what's bringing the Pittsburgh Steelers team and organization down.
This is about as direct and personal as you get from an ESPN personality. This is not the first time Clark has expressed his frustration with his former team. Clark appeared to choose his words very carefully this morning, deliberately pausing before he spoke. You have to wonder if there are still people inside the organization sharing similar sentiments with him about the young wide receiver. Or if anyone else at ESPN could get away with expressing all these very direct and personal criticisms of Claypool on Get Up.