English Fans Brawl in Funny Outfits at Rugby World Cup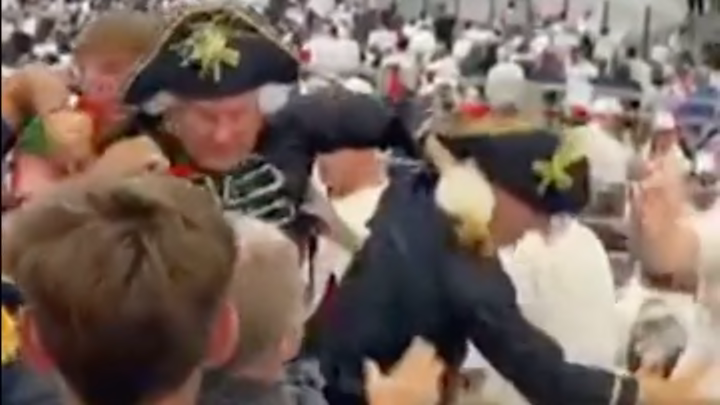 The Rugby World Cup is currently happening in France. Over the weekend England beat Fiji, 30-24, at Stade Vélodrome in one of the quarterfinal matchups. They will face South Africa in the semifinals on October 21. So English rugby fans will have plenty of time to rest up and figure out how to sneak into the stadium if for some reason they were kicked out of the quarterfinals for fighting like these guys.
Obviously, this is extra funny because of the outfits. Those guys are apparently dressed up as Lord Horatio Nelson, which sounds like their version of Uncle Sam. Not that it matters. They were dressed up as 18th Century naval officers and they got into a very physical altercation with people dressed like normal 21st Century residents.
It is a short, but incredibly eventful clip. Especially because one of those old timey Brits picked up a guy and threw him over his head down a few rows of seats. He might as well have been throwing him overboard the HMS victory. The only thing missing was a big splash.
As for these guys getting back into the stadium for the semifinals, try and slip security a shilling or two. Or maybe just leave the outfits at home. Look to the Americas where we fight at sporting events while wearing modern clothes.