Roundup: Adam Toledo Video Released; CBS News Names New Co-Heads; Sylvester Stallone Did Not Join Mar-A-Lago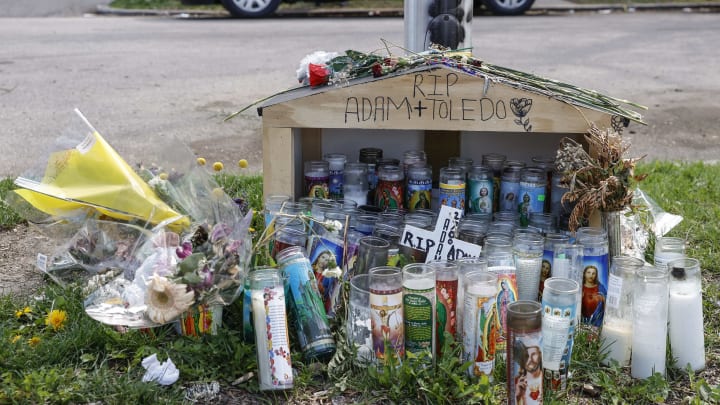 Kamil Krzaczynski/Getty Images
Police release body cam footage of Adam Toledo shooting (no video in link)... Sylvester Stallone shoots down reports he joined Trump's Mar-A-Lago club... CBS names Neeraj Khemlani and Wendy McMahon as co-heads of newly-combined CBS News and CBS TV department... Democrats unveil plan to expand Supreme Court... One of the officers involved in Breonna Taylor shooting got a book deal... Majorie Taylor Greene wants to debate Alexandria Ocasio-Cortez over Green New Deal... Mystery tree beast turns out to be croissant... Pfizer CEO says third vaccine shot likely needed within 12 months... Mads Mikkelsen will be in 'Indiana Jones 5'.... Dan Snyder files court papers against former WFT GM Bruce Allen... Reuters content behind a paywall now... After months on lam, slaughterhouse escapee beefalo caught... US expels Russian diplomats and institutes new set of sanctions... Kings of Leon will perform on first night of NFL Draft...
I Am Trying to Decide if I Should Buy Two Rolls of Paper Towel or Three, By Jonny Sun [New Yorker]
Inside Amazon's plan to transform the sports broadcasting world [New York Post]
Vince Staples Chops It Up with Desus Nice [GQ]
The Offspring's Dexter Holland on Cali Punk Pride and Why We've Seen the Worst of Covid [Rolling Stone]
Five 'Game of Thrones' Sequels, Prequels and Spin-offs That Will Never Make it to HBO [TBL]
This looks great.
Interesting stuff.
This is poetry in motion, man.