Kyle Hamilton Ejected After Huge Helmet-to-Helmet Hit on Titans WR Chris Moore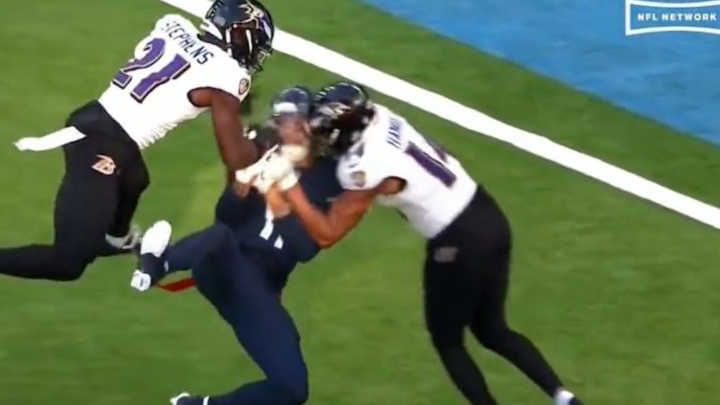 Ravens-Titans /
On Sunday morning NFL fans were treated to an early-morning kickoff as the Baltimore Ravens took on the Tennessee Titans across the pond at Tottenham Hotspur Stadium. The first half went very much the way of the Ravens as they took an 18-3 lead into the locker room at halftime, benefitting from a late blunder in the second quarter that effectively gifted them three points.
However, things didn't go nearly as well out of the gates in the third quarter. The Titans got down the field pretty quickly to kick a field goal and narrow the gap to 18-6. Lamar Jackson then threw a pick on the ensuing possession and suddenly Tennessee had the ball close to the red zone yet again.
On the first play after the pick Ryan Tannehill tossed up a ball to wide receiver Chris Moore near the goal line. Moore went up and appeared to catch the ball before he got absolutely drilled by Baltimore safety Kyle Hamilton. Moore stumbled while getting up and replay showed it was a brutal helmet-to-helmet hit. Hamilton was then ejected.
This wasn't a dirty hit in the way Kareem Jackson's was when we first saw an ejection of this type earlier in the year. It was one of those bang-bang plays where Hamilton was trying to go for the receiver's chest but then his head was suddenly there instead. Still, that sort of hit is going to lead to an ejection every time in today's game.
As noted above, Moore headed to the locker room immediately after the hit. Hopefully he's fine and can get back out there quickly.