DeAndre Hopkins Had No Interest in Sitting Next to Titans Returner Who Fumbled Punt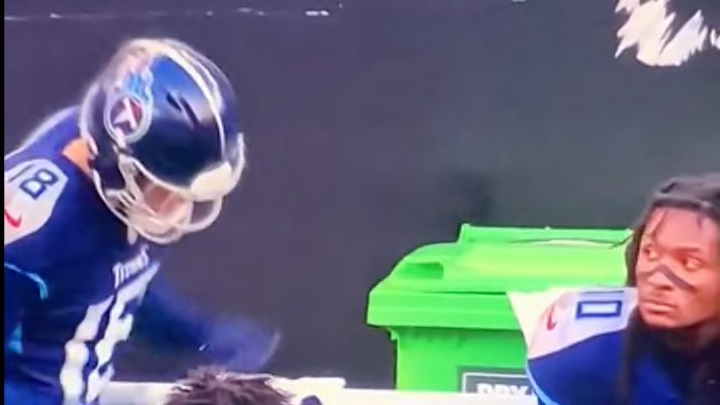 Titans /
The Tennessee Titans took on the Baltimore Ravens in London on Sunday and it didn't go so well in the first half. The two sides traded field goals in the first quarter before the Ravens scored a TD to go up 15-3 with three minutes left in the half. They got the ball back after the two-minute warning but couldn't do anything with it and lined up to punt with only 12 seconds to go before halftime. You'd think Tennessee was safe to get to the locker room and regroup in an attempt to show some competitiveness in the second half.
You would think wrong. Kyle Philips, the Titans' second-year return man, muffed the punt at his own 11-yard line. The Ravens recovered and the ever-reliable Justin Tucker was able to boot in a short field goal to put his team up 18-3. A tough series of events for Tennessee.
After muffing the punt, Philips made his walk of shame to the bench with his head hanging and happened to sit down next to DeAndre Hopkins. Hilariously, Hopkins had zero interest in letting Philips' bad luck rub off on him and instantly got up. Given how the wideout was side-eying Philips as he walked towards him this definitely was not a coincidence. Hopkins got out of there immediately.
Hopkins might be superstitious. Maybe he knew the cameras were going to be on Philips right then and didn't want any screentime. Either way, he did not want to be there for his teammate at that moment.