Punter Johnny Hekker Headbutts Cameron Goode, Who Flops and Draws an Unsportsmanlike Penalty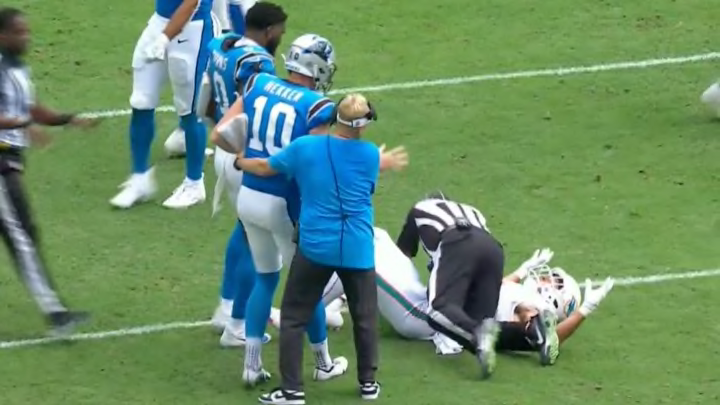 The Carolina Panthers jumped out to a 14-0 lead over the Miami Dolphins only to surrender 35 straight points in Week 6. The Dolphins were racking up highlights and trying out all sorts of celebrations as they pulled away. Meanwhile, Panthers punter Johnny Hekker got in some work as the Panthers stopped moving the ball effeciently. And then Hekker got mad.
That's Dolphins linebacker Cameron Goode who said or did something that made Hekker shove him. And then he kept talking and Hekker took the bait, walking over to him and giving him a helmet to helmet headbutt. Goode was more than ready for this action and took a dive.
The funniest part has to be the referee diving on top of him to protect him from the rogue punter. Notice he does not throw the flag until he feels satisfied that the danger has passed.
Of course, the best part of this is probably Kevin Harlan and Trent Green having a laugh at the expense of everyone involved here. Anytime the announcers are laughing at the action on the field, you know you've got a classic on your hands. And announcers get an especially big kick out of a good flop.