Pro Bowl Ratings Indicate New Format Won't Move the Needle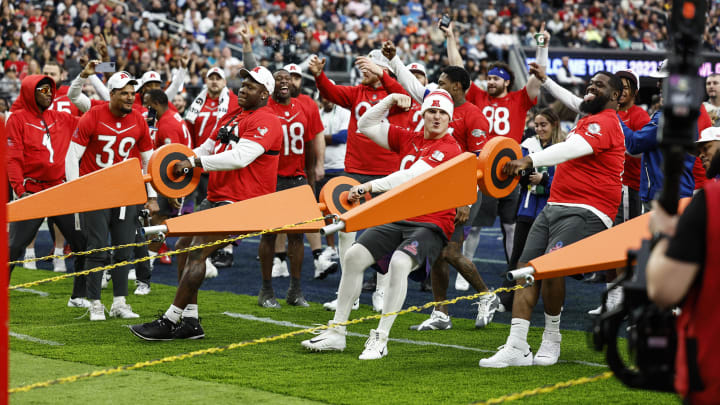 Pro Bowl / Michael Owens/GettyImages
The NFL's new Pro Bowl format made its debut over the weekend. Instead of a "football" game where everyone is going at maybe 10 percent speed and no one cares, this year's Pro Bowlers participated in a series of minigames that revolved around three flag football games. The NFC ended up victorious after winning the final of those flag football games. Peyton Manning was pissed off about it. The players seemed to have more fun than in recent years.
Speaking as someone who watched the whole thing, some of the games were actually great ideas, like the long snapping/kicking tic-tac-toe or the "move the chains" competition for the linemen pictured above. Some were not, like the best catch competition. All in all it was a bit more fun to watch than the snoozefests from the last few seasons but the Pro Bowl remains miles and miles behind the NBA and MLB All-Star games.
On Tuesday, we got viewership numbers for the 2023 Pro Bowl. They were slightly worse than last year's, which is either a big win or a big loss depending on your point of view.
On the one hand-- getting over six million people to tune into a bunch of flag football games is an accomplishment. That is a higher number than the average per-game viewership of the first two rounds of the NBA playoffs last year. And it's all really just gravy for the NFL, which only has to wait a week before they enjoy the highest-rated television event of the year.
On the other hand-- the league completely reimagined the Pro Bowl, going to extreme lengths at times to come up with entertaining ideas, and managed fewer viewers than the "football game" that took place last year. The National Football League effectively tossed out the entire idea of football for its All-Star game and there was no payoff to speak of.
This could simply be the start of a growing audience for the Pro Bowl. It is more likely that it is impossible to get anyone to care that much about it and an audience of six million is both the baseline and the ceiling. This country will watch literally anything football or football-adjacent but the Pro Bowl has fallen so low repuation-wise that it just isn't going to draw the same audience as a regular Sunday afternoon game.
The 2023 Pro Bowl ratings are not a loss but they aren't a resounding success, either.