Peyton Manning Infuriated After Controversial End to Pro Bowl Flag Football Game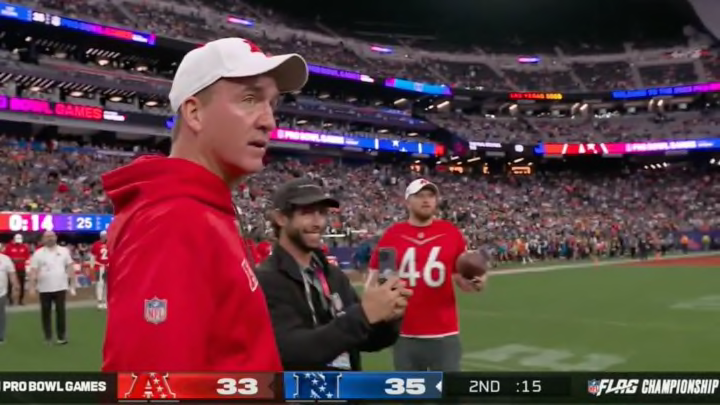 Peyton Manning /
It all came down to the wire during the NFL's new and improved (to some) Pro Bowl on Sunday. After a few days' worth of minigames and several flag football games, the AFC and the NFC faced off in one final flag football match to win the points necessary to take home the Pro Bowl Games title.
Of course things could not end without some controversy. It's still football. After the AFC was called for a holding penalty on the goal line, the NFC had the ball on the one-yard line up by two points with only 40 seconds to play. Instead of running a play where something could go wrong and the AFC might turn the tables on them, the NFC team decided to kneel it out.
READ NEXT: 30 Best SportsCenter Anchors of All Time 
This caused Peyton Manning, coach of the AFC side, to sprint out onto the field in anger and yell that it should have been a penalty. The refs declined to throw the flag despite his entreaties and Peyton was forced to watch as Eli Manning received his Gatorade shower.
Honestly could not tell you if Peyton was in the right or not. It doesn't really matter. Because it's hilarious that he got this hot over a flag football game.
Great work by the broadcast team to flash from angry Peyton to gleeful Eli in back-to-back shots. An enjoyable end to the day's events.