Phil Mickelson Hits First Shot of LIV Golf Career in Augusta National Golf Club Gear, Quickly Changes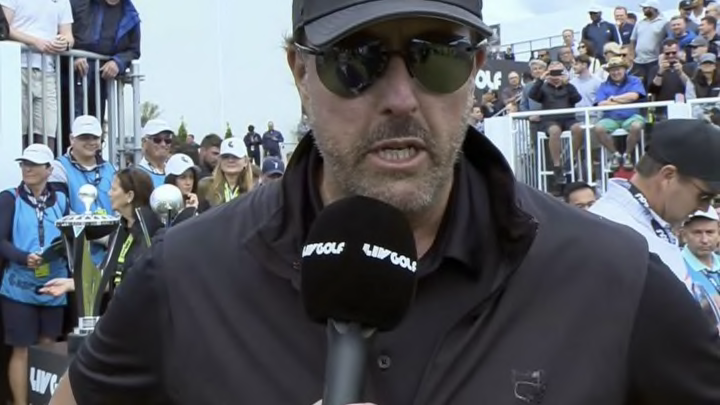 LIV Golf is announcing itself to the world with actual action today in London and the vibes can only described as "unique." Golf fans everywhere have one eye at the RBC Canadian Open, one across the pond at this upstart league that could either change everything or crash and burn in spectacular fashion, one on their inbox as PGA Tour commissioner Jay Monahan sends a strongly worded email, and another on the ridiculous new leaderboard streaming live on YouTube. Needless to say, everyone is dizzy.
That's why the established golf media is so important, as they can keep their cool while the world around them burns. Eagle-eyed writers couldn't help but notice that Phil Mickelson, the marquee driving force behind the wheel of this Bad Boy pirate ship, hit his first shot of the day wearing a vest featuring the Augusta National Golf Club logo, only to make a mid-round wardrobe change.
This is either a meaningless accident or a carefully curated message. The latter seems more likely than the former. Mickelson and everyone else knows that this battle will rage on through back-and-forth messaging and bringing the Masters to LIV even subconsciously is part of the battle. The PGA Tour's strongest weapon right now is preserving its grip on the majors as it's really the only thing these defectors care about when their paychecks now have so many guaranteed zeroes.
Augusta has the ball in its court and will make its own decisions as to LIV participants' eligibility. If you asked me to guess which way the wind is blowing, I'd say the Masters, U.S. Open and British Open will all align themselves with their long-time partners. Mickelson and others wouldn't be doing this if they weren't firmly on the other side of such action.