Paul Finebaum Wrong, Jim Harbaugh Not a Choker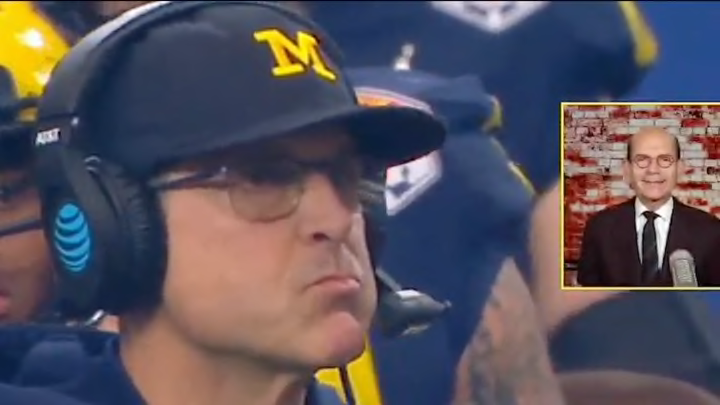 Twenty twenty-three is off to a weird and not great start as a Paul Finebaum zinger has forced me to take up my sword and stand up for a rival's honor. Discussing Michigan's somewhat surprising loss to TCU in the College Football Playoff, Finebaum told the rest of the Get Up crew that this was all Jim Harbaugh's fault because he's a choker.
"This is the day after New Year's," he said. "Right around this time every year we all anticipate the ball drop in Times Square and we also anticipate Jim Harbaugh choking a postseason game."
This is big, if true. It's just that I'm not so sure it's true. Harbaugh has been at Michigan for eight years and never once have I ever heard him called a choker. Not by upset Wolverines fans who think they deserve more. Not by the local media who use everything they can to get attention. Not even by Michigan State fans like myself who don't need any nudging when it comes to needling the guy.
Jim Harbaugh = Choker is not a thing. Perhaps with enough elbow grease and the absence of Regina George, Finebaum can make it a thing.
Let's examine this for a minute. Harbaugh was winning and put himself in position to make the playoff a few times with a victory over Ohio State. He never had the more talented team. He may not have had the more talented team in each of the last two years. Where he's, you know, made the playoff.
Last year Georgia manhandled the Wolverines in a semifinal. It was more like state-sanctioned assault than choking. Michigan was lucky to survive the experience, forget about allowing a potential victory to get away. And this year, well, J.J. McCarthy threw two pick-sixes. A running back fumbled inches away from paydirt. Sure, Harbaugh dialed up an ill-advised Ann Arbor special early on, but that was hardly a fatal blow.
COVID canceled bowls in 2020. In 2019 Alabama beat Michigan in the Citrus Bowl. In 2018 Florida crushed Michigan in the Peach Bowl. The year before that South Carolina bested the Wolverines in the Outback Bowl. And the year before that Florida State won a classic in the Orange Bowl.
But, like ... who cares? Those weren't make-or-break contests. They were exhibitions outside the playoff.
Consider this. Consider if Harbaugh had won all four of his bowl games before the playoff appearances. Would he be lauded for having the clutch gene? Absolutely not. Because the stakes weren't the same.
Look, it brings me absolutely no joy to stand up for this guy. One can say a lot about Harbaugh — and they should — but he is definitely not a choker.