Robert Kraft Looked Utterly Defeated Watching Patriots Offense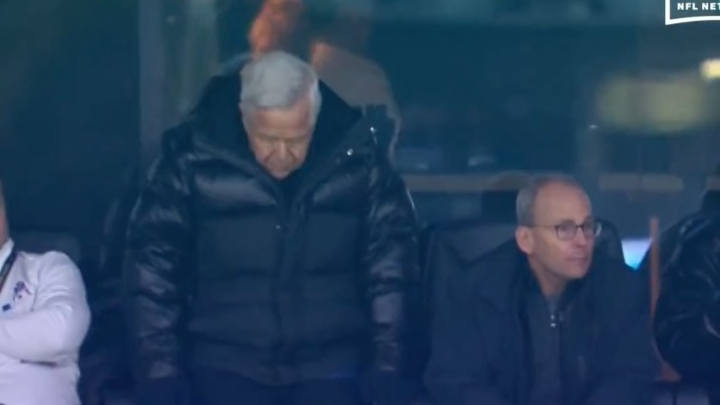 Robert Kraft /
The New England Patriots traveled all the way to Frankfurt, Germany this week to stink it up in front of a more international audience than normal. Through three quarters the offense managed exactly one field goal. The only thing of note to occur in those first 45 minutes was Mac Jones getting ripped into by Bill O'Brien on the sideline in full view of the cameras. The defense played well enough but nobody is going to praise them for stifling a Gardner Minsher-led unit.
Usually when the game is going that poorly by the fourth quarter this Patriots team has a tendency to roll over and die quickly, which is frankly one of their more admirable qualities this season. But this time they showed signs of life entering the final frame; Jones and his motley crew of playmakers strung together a long drive that started at their own six-yard line and ended up in a goal-to-go situation in Colts territory. It gave everybody in attendance hope that they might see a second touchdown that day!
Of course, New England disappointed. After gaining four yards on two run plays Jones airmailed a pass to Hunter Henry in the back of the end zone on third-and-goal and the ball fell incomplete. The NFL Network cameras flashed to an utterly defeated Robert Kraft afterwards. His reaction encompasses what we all feel watching this offense.
We are obligated at this time to use the famous Simpsons line-- "You can actually pinpoint the second his heart rips in half!"
Kraft is down bad, man. He bought the team in 1994 and didn't really have to deal with any down years before Tom Brady showed up. Enjoying decades of outrageous success has spoiled fans across many generations and it certainly has spoiled the Kraft family. He is not used to this and it's apparent.
Not that anybody is going to muster up much sympathy. But what changes will be made rest largely on how mad Kraft is about this season. And that video is not a great sign for the future of anybody currently employed by New England.