Patriots Screwed by Obvious Missed Helmet-to-Helmet Penalty on Massive DeVante Parker Hit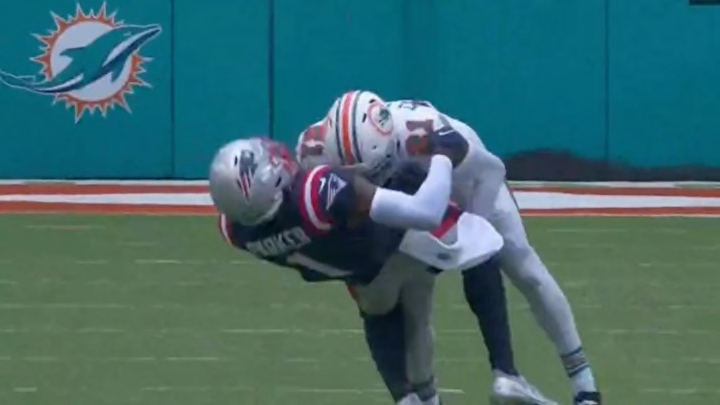 DeVante Parker /
This Sunday went as most Sundays have gone for the New England Patriots. They fell behind early, Mac Jones had a terrible turnover, the team's offense looked generally inept, Bill Belichick raged on the sideline, and the injury bug struck a few key players yet again. However, they hadn't really gotten the short end of the stick from the referees this season. Until today.
In the first half the refs missed a very clear illegal formation penalty on the Dolphins and led to Belichick's outburst. The Patriots quickly found themselves down 24-10 in the second half and then got screwed by another missed call on their second possession of the half.
Mac Jones found DeVante Parker for a quick pass and Parker got absolutely blasted by Miami defensive back Deshon Elliott. It was clear in real time and on replay that Elliott nailed Parker in the helmet on the initial hit-- and then bodyslammed him. Parker almost fell over after getting up and was quickly ruled out for the game with a head injury.
No flag to be found, though.
The Patriots had to punt shortly thereafter.
The Pats got screwed, to be sure, but we've seen worse mistakes on far more consequential plays across the NFL this season. The frustrating thing is that the refs will swallow the whistle on a play like that, but call roughing the passer on very normal hits. It's the lack of consistency that is aggravating more than anything.
Hopefully Parker is alright because above everything else that was a violent hit.