Bill Belichick Rips Into Referee After Bizarre No-Call on Dolphins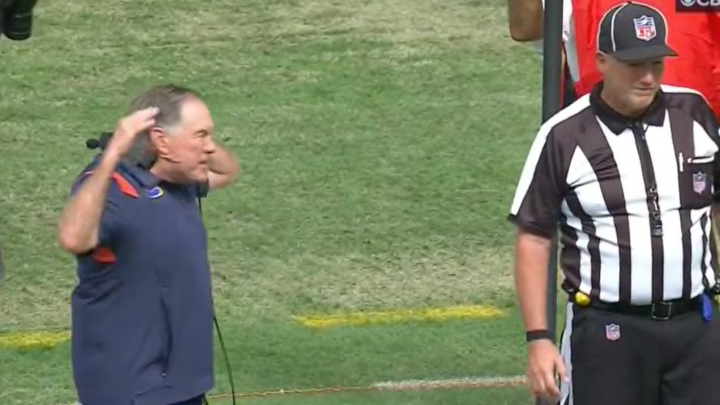 Bill Belichick /
On Sunday the New England Patriots were playing the Miami Dolphins and Bill Belichick had another sideline freakout. This time it was due to a strange no-call from the officials, which is exactly the sort of thing that really irks Belichick. Nothing gets the head coach going quite like a misunderstanding or misapplication of the NFL rulebook, which we can only assume occupies a sacred space next to his bed akin to the bible.
The Dolphins, leading 14-7, had the ball in the red zone with less than a minute to go in the second quarter and were attempting to get a few more points on the board before halftime. As Tua Tagovailoa lined up in the shotgun, multiple Miami players went into motion. Which is not an unusual facet of Mike McDaniel's offense, but only one player is supposed to be in motion at one time. Pre-snap motion has become significantly more popular in the last few years but the rule has been, for many years, that only one guy can be going in motion.
Yet for some reason the refs simply did not throw a flag when the Dolphins accidentally had two players moving before the snap. As you can see, Patriots defenders were as confused as anybody.
Very strange! Belichick did not hesitate to give the closest ref a piece of his mind, either. Here's Belichick screaming "that's bullsh-t" immediately after the play.
The Patriots stopped the Dolphins on the next play and held them to a field goal, but Belichick was still complaining about the lack of flag.
Pretty ridiculous no-call, even if it wasn't terribly consequential.