Rex Ryan Unloads on Mac 'Peashooter' Jones: 'This Guy Can't Throw'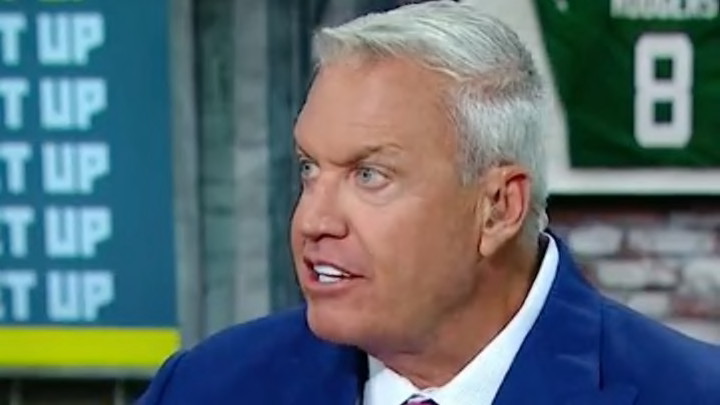 It may finally time for even the most crazed sycophants to admit that the New England Patriots have a Mac Jones problem and that it will doom Bill Belichick to go out sad — well, sadder than he appeared to be while winning all of those championships. The third-year quarterback was abysmal in a 38-3 loss to the Dallas Cowboys yesterday, completing 12 of his 21 passes for 150 yards and throwing two picks. He has not been blessed with a great complement of talented skill position players to elevate his game throughout this experiment, yet there have been precious few flashes that suggests that would change the long-term trajectory.
Rex Ryan, speaking for a significant portion of the fanbase, took aim this morning on Get Up.
"Are you referring to Peashooter Jones?" he asked. "Here's the thing. The guy doesn't have a whole lot of arm talent, I've said it from jump: maybe the weakest arm for all starting quarterbacks in the league. I don't hate. I'm telling you based on all the years I've had to defend against everybody. I would love to defend against this guy. Like, are you kidding me? This guy can't throw. To think this guy is going to take you to where you want to go? You're absolutely crazy."
Other than that, though, very little to pick apart when it comes to Jones' game.
My colleague Liam McKeone is a short-suffering Patriots fan and HR would be all over me if I asked how the franchise can fix this problem. There's a glut of high-end arm talent in this upcoming NFL Draft and there will be plenty of opportunities to lose enough football games this season to put them in position to secure one. But Belichick is 71-years-old and if you're banking on new blood coming in and competing in meaningful playoff games within even three years, that's not exactly a sure thing. Kirk Cousins could be a proven entity and succeed behind an upgraded offensive line but he's also Kirk Cousins and no spring chicken himself.
No easy answers. Belichick said yesterday he doesn't foresee pulling the Bailey Zappe contingency cord so for now the one they have is Jones, even if he's not the right answer.