Pat McAfee Ripped Skip Bayless During ESPYs Speech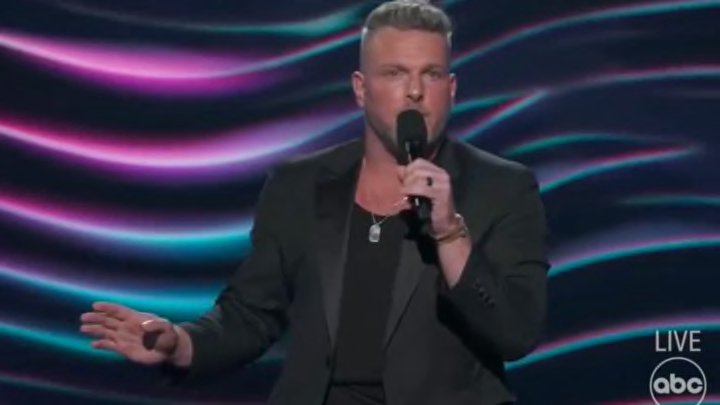 Pat McAfee /
The 2023 ESPY Awards took place last night and since there was no host for the first time ever there were a variety of speeches given by various personalities. Pat McAfee was tasked with giving the opening monologue, which should not come as a surprise. He is built perfectly for something like this. Coupled with his status as ESPN's newest big-ticket hire and he was always going to get some screentime at the ESPYS this year.
McAfee's speech touched upon Damar Hamlin, who was in attendance last night to present the Pat Tillman Award For Service to the Buffalo Bills' training staff. While telling the story of the night the staff saved Hamlin's night McAfee took a shot at Skip Bayless, to the great delight of the crowd.
"We all watched the situation unfolding on Monday Night Football as Joe Buck and Troy Aikman tried to navigate the waters. And we all at home feared for the absolute worst. And Skip Bayless was like, 'GET THAT DEAD BODY OFF THE FIELD, WE'VE GOT PLAYOFF IMPLICATIONS ON THE LINE!' He said it. The tweet's still up. Hashtag delete the tweet Skip, come on."
Pretty good and just about the only way to lighten up a speech about what happened to Hamlin.
As for Bayless, he's still off-air while Undisputed gets its act together so he can only respond via Twitter. He chose not to, instead tweeting again about LeBron James.
In the chaotic world we live in it is at least comforting to see Bayless act exactly as we all expect him to.