Referees in Packers - Lions Game Make Hilariously Late Call That Turns a Detroit Field Goal Into a TD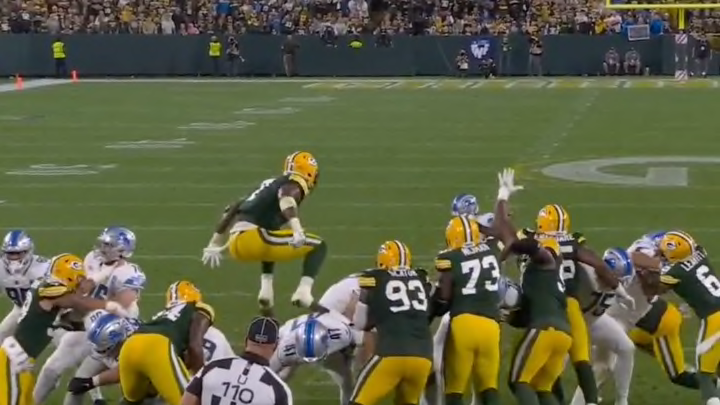 The Detroit Lions kicked the Green Bay Packers asses on Thursday Night Football to start Week 4 on Amazon Prime. The score might have been closer, but there was a penalty called that took a Lions field goal off the board and turned it into a touchdown. Here's the original play where Quay Walker jumped over a Detroit lineman while trying to block the kick.
That's illegal. And worthy of an unsportsmanlike penalty. However... none of the officials on the field made the call when it happened. Al Michaels and the Prime broadcast went to commercial as if the field goal counted and both teams sent their special teams units onto the field for a kickoff.
After the commercial break Detroit somehow had the ball back inside the 10. And a few plays later, on another 4th down, they punched it in to push their lead to 34-17.
So it was a dumb penalty that should have been called, but it was also one that wasn't called. So was it reviewed because it was a scoring play? Is it even allowed to make that call on replay? Especially right after they couldn't review Green Bay completing their biggest play of the game after the third quarter ended? It just seems like multiple questionable replay decisions.