Orlando Magic Need to Draft Chet Holmgren And Reunite Him With Jalen Suggs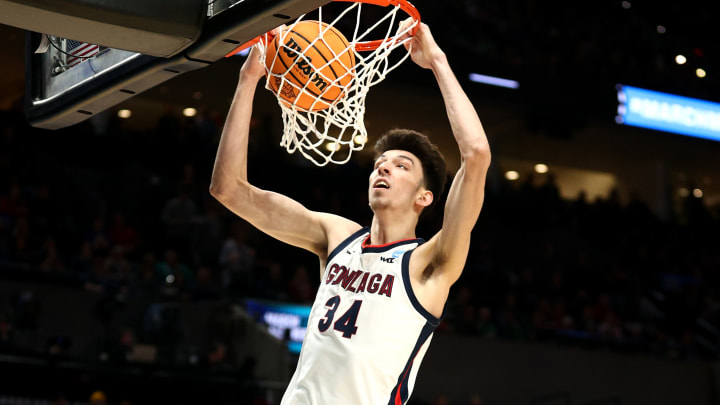 Chet Holmgren, Georgia State v Gonzaga / Ezra Shaw/GettyImages
The Orlando Magic won the 2022 NBA Draft lottery Tuesday night, securing the No. 1 pick in the draft for the first time since they selected Dwight Howard in 2004. This time around, the Magic have a unique opportunity they must take advantage of: the chance to reunite good friends and former high school teammates Chet Holmgren and Jalen Suggs.
Suggs and Holmgren played together at Minnehaha Academy, and in AAU for Grassroots Sizzle. They have been good friends since middle school. Suggs graduated high school in 2020 and took his talents to Gonzaga as a five-star, all-everything point guard. A year later, Holmgren followed his path to Spokane as the consensus top player in the 2021 recruiting class. Suggs turned pro after his freshman season, so they didn't suit up together in college, but both left their mark on Gonzaga.
Suggs led the Bulldogs to the national title game while averaging 14.4 points, 5.3 rebounds and 4.3 assists per game. He also hit one of the great buzzer-beaters in college basketball history in the Final Four and earned second-team All-American honors as well. Holmgren similarly was named second-team All-American as a freshman, as the 7-footer averaged 14.1 points, 9.9 rebounds, 1.9 assists and 3.7 blocks per game.
Suggs was Orlando's first-round pick in 2021, as the franchise selected him at No. 5. Now they have a chance to grab Holmgren, who is among a group of six players generally agreed upon as the best in this draft class. But Holmgren, Auburn's Jabari Smith and Duke's Paolo Banchero are the only three with a real shot at being the top pick, and Holmgren is the consensus best player.
Not only does Holmgren possess a diverse offensive game, he's also an outstanding rim protector. He can put the ball on the floor, shoot it (39 percent from 3-point range), has great body control when finishing at the rim and is a prolific shot blocker and excellent defender due to his size and length. Yes, his much discussed 195-pound frame is a concern, but he should be able to pack on a decent chunk of weight in an NBA-level strength program.
Suggs struggled as a rookie this season, which isn't shocking since he's only 20 years-old. He averaged 11.8 points, 3.6 rebounds, 4.4 assists and 1.2 steals in 27.2 minutes per game. His shot a woeful 21.4 percent from 3-point range and his PER of 8.66 was positively dreadful. A stress fracture in his ankle ended Suggs' season in early May, but he should be ready for training camp. Given his size (6-foot-5, 205 pounds), athleticism and skill, it's a safe bet Suggs will figure things out. Adding Holmgren would take a lot of weight off his shoulders.
Orlando has the opportunity to create an inside-outside pairing of two players who know each other well and love playing together. This should be a slam-dunk decision. It would completely revamp the franchise. In this instance, there's no need for the Magic to worry about drafting for need or worrying about fit on the roster. They have to take the best guy available and pair him with the franchise point guard they drafted last season. It makes too much sense not to happen.
If they don't screw this up, the Magic could potentially trot out a starting five of Suggs, Holmgren, Cole Anthony, Franz Wagner and Jonathan Isaac -- assuming he ever gets healthy. Then Markelle Fultz, Wendell Carter Jr., Terrence Ross, R.J. Hampton and Chuma Okeke could lead the second unit, or become trade bait. That's a hell of a squad to start with and would be a heck of a lot of fun to watch.
The choice at No. 1 should be a no-brainer for the Orlando Magic. Chet Holmgren has to be the pick, and reuniting him with Jalen Suggs would be a perfect fit.