Cris Collinsworth and Mike Tirico Break Down 49ers Fan Proposing to Cowboys Fan on Sunday Night Football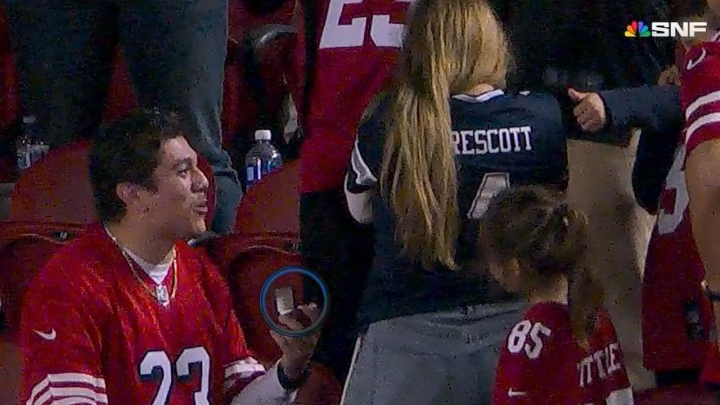 The San Francisco 49ers beat the Dallas Cowboys, 42-10, on Sunday Night Football. It was an absolute nightmare for Dallas, but at least one Niners fan tried to make it up to the visiting supporters by proposing. Right before the end of the broadcast, NBC caught a fan in a Christian McCaffery jersey successfully proposing to a woman in a Dak Prescott jersey and Cris Collinsworth and Mike Tirico broke it down right before signing off.
Tirico explained the highlight of the proposal and then summed it up in the most football guy way: "Now there's a guy who's getting married!"
Then Collinsworth stepped in to question the call. "Now would he have done it if the Cowboys had won? I don't think so. No, I think he's holding the ring. You can't start a marriage like that, with her having the upper hand, but 49ers win? Here you go! Let's get married!"
First, congratulations to the couple. Second, this is why NBC wants 17 Cowboys games a year, no matter how bad they are. Third, thank you to the gentleman for doing it at the stadium to give the broadcast one last shot of life at the end of a non-competitive game.
This clip will now live on forever as more proof that sports announcers calling anything besides sports is incredibly amusing. That's why people wanted to hear Joe Buck call a sex tape during quarantine. And also why it's so fun when a cute animal gets onto the field. Sports announcers have a gift and confining them to nothing but calling games robs us all of a great deal of joy.