Why is There No Pro Bowl Game in 2024?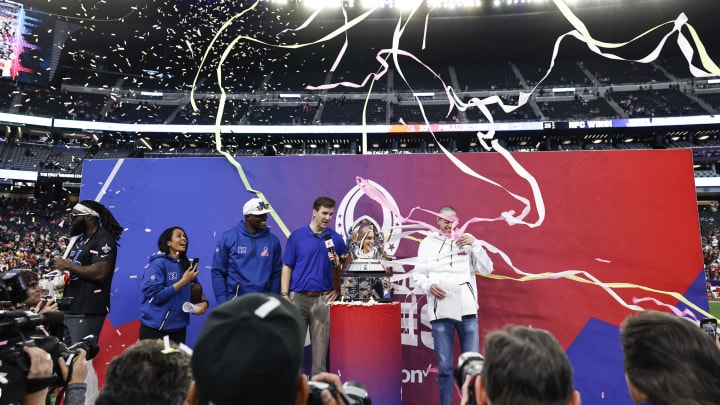 2023 NFL Pro Bowl Games / Michael Owens/GettyImages
The Pro Bowl is gone. Long live the Pro Bowl. The NFL's All-Star game, as you may remember it, is gone forever. The very sport of football is too dangerous to play for fun. The league has already dropped one preseason game and the total amount of exhibition football is only going to keep decreasing which is why the NFL did away with the traditional Pro Bowl game starting in 2023, following the 2022 NFL season.
Why is There No Pro Bowl Game in 2024?
There will not be a traditional Pro Bowl game in 2024. For the second straight year the NFL will instead host a number of skills competitions for Pro Bowl players from both conferences. The 2024 Pro Bowl will be take place over several days in early February in Orlando, Florida. Fans can still attend, but they're going to see a lot more football-related activities than actual football.
Omaha Productions helped revamp the Pro Bowl competition last season to get rid of the actual tackle football. The games were broadcast on ABC, ESPN, ESPN+ and Disney XD and featured a number of ESPN's NFL personalities including Kirk Herbstreit, Pat McAfee, Robert Griffin III, Marcus Spears, Laura Rutledge, Ryan Clark and Dan Orlovsky.
Eli Manning and Peyton Manning will return to coach the AFC and NFC in a flag football game that actually got a little heated last year. There will also be a number of skill competitions, including dodgeball and an event called Ligthning Round where players throw water balloons, catch punts from a JUGS machine and then try to dump confetti on the opposing coach.
So there is no Pro Bowl but there will be something to watch on that Sunday between the Championship Games and the Super Bowl in February.