Minkah Fitzpatrick Called For Horrible Roughing the Passer Penalty on Jimmy G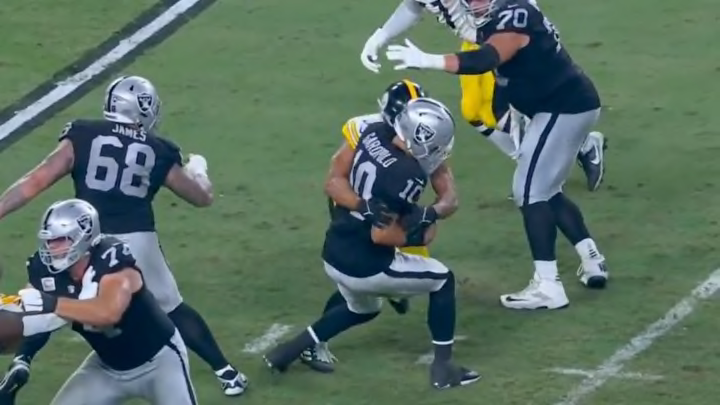 The Las Vegas Raiders needed some help while attempting a fourth quarter comeback against the Pittsburgh Steelers in Week 3. Trailing by 16 coming into the fourth the Raiders made it to the red zone when Minkah Fitzpatrick sacked Jimmy Garoppolo to force a third-and-long. Except a flag was thrown because Fitzpatrick's helmet touched Jimmy G's helmet.
File this one in the what the hell is he supposed to do? category. Fitzpatrick came in full speed and made sure not to take Garoppolo down. He touched him, Jimmy G went down and Fitzpatrick let him go and kept running. And for some reason a flag was thrown.
The best argument NBC could come up with was that it was helmet-to-helmet, but this is not what that rule is intended to stop. Garoppolo put his head down and Fitzpatrick hit him in the shoulder first. There's really nothing he can do there except completely hold up and not hit Garoppolo at all. It's a dangerous game, but at some point the football players have to be allowed to play football.
Fitzpatrick was involved in the Nick Chubb injury last week and if he went low against Garoppolo there would be a whole other discussion right now instead of how is that a penalty!?