Mike McDaniel On Possibility Other Quarterback Would Excel in Dolphins Offense: 'Who the F Cares?'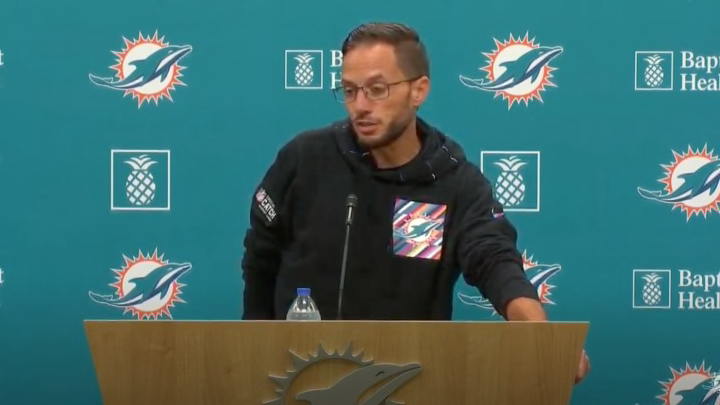 The Miami Dolphins are currently 5-1, tied with four other teams for the best record in the NFL. Tua Tagovailoa currently leads the NFL in passing by nearly 200 yards, is the only QB averaging over 300 yards per game and has thrown 14 touchdowns, which is tied with Kirk Cousins for the most in the league. Simply put, he's been awesome.
During head coach Mike McDaniel's press conference on Wednesday, one member of the assembled press asked McDaniel about the idea that there are many quarterbacks in the NFL that could be plugged into the Dolphins lineup who would excel and flourish thanks to McDaniel, his scheme and the team's skill players. McDaniel's answer? "Who the F cares?"
Yes, he also joked about pushing the podium over. Thank goodness the Dolphins have remained good under McDaniel so he can continue to be his weird, funny self. There aren't many coaches who could be put in the same situation and produce the same number of laughs.
In the video below you'll see the rest of McDaniel's answer where he explains that it's a team and everyone matters. But he's also seen other players run these same plays without the same level of results.
A very good, thoughtful answer about the importance of team over player, but the best part of the answer will always be the "Who the F cares?" For some reason people keep trying to look at Tua's performance this year and use his incredible numbers to prove he's not really that good, which is weird. Like in this clip of Stephen A. Smith from First Take on Tuesday. Stephen A. made a point of saying that Tua only dumps the ball off to Tyreek Hill and he does all the rest, even though half the clips of Tua show him throwing bombs and the fact that he leads the NFL in air yards per pass attempt. And Jeff Saturday and Shannon Sharpe just sat there and nodded in agreement. It's an incredibly embarrassing clip for everyone involved, except for the actual Dolphins quarterback.
No wonder McDaniel is so annoyed he's ready to knock over a lectern.