Mike Greenberg: Mark Davis Has Turned the Raiders Into a Laughingstock And a Circus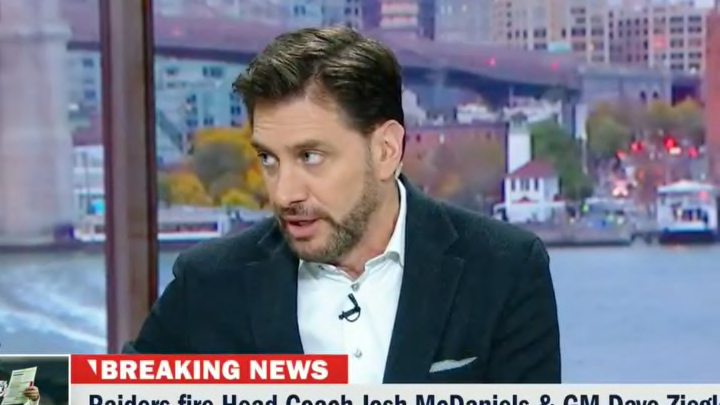 Mike Greenberg /
The Las Vegas Raiders cleaned house for the second time in three years last night, firing head coach Josh McDaniels and general manager Dave Ziegler after an extremely ugly 3-5 start to the season. Anybody who had the displeasure of watching the Raiders this year knew McDaniels was not long for the sideline but it remains surprising that owner Mark Davis would pull the trigger on a midseason firing after being forced to do so with Jon Gruden a few years back. Regardless, Davis' quest to create a functioning football team in Las Vegas remains ongoing and Raiders fans will suffer through another lost season as a result.
Mike Greenberg blames Davis for this latest debacle wholeheartedly and hammered the Raiders' owner on Get Up this morning.
Greenberg got more worked up about this than any other Get Up topic (excluding anything Aaron Rodgers) in recent memory. He absolutely ripped the man.
With all that said I do wonder how much Davis is really at fault considering the Raiders have been a pretty bad football team for many years at this point. Greenberg says that everything went downhill once Al Davis died in 2011. In the 12 years since, the Raiders have made the playoffs twice (losing in the Wild Card round both times) and have employed eight different head coaches in that span.
But the years leading up to 2011 were actually quite bad, too! The last time the Raiders were good was in 2002, when they lost the Super Bowl to Jon Gruden's Tampa Bay Buccaneers. From 2002 until 2011, the franchise did not make the playoffs once and employed seven different head coaches. So if we're going by postseason appearances as the measure of success, Mark Davis has actually made the Raiders less of a laughinstock and/or circus than his father did in his final years at the helm.
Honestly it's pretty weird to think the Raiders have fallen from great heights. They haven't been consistently good in about four decades. The late 70's / early 80's Raiders are the stuff of legend, so given Greenberg's age I guess it makes sense that he'd hold a much higher view of the franchise than anybody under 40. But the fact of the matter is that the Raiders have been a laughingstock circus for much longer than Mark Davis has been in charge.
Even if the last few years feel like they've been worse.