Davante Adams Flips Out, Throws Helmet on Raiders Sideline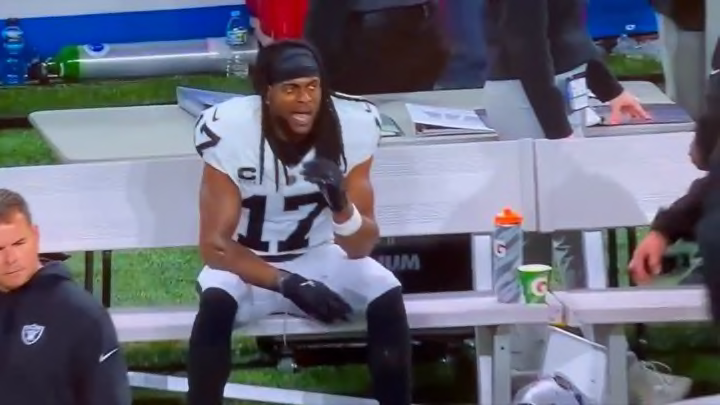 Things are not well with the Las Vegas Raiders. As they were on their way to a 26-14 to the Detroit Lions loss Monday night, star receiver Davante Adams flipped out and threw his helmet on the sideline. That came several plays after Jimmy Garoppolo overthrew him on what should have been a sure touchdown pass.
Here's the play in question:
It was the second time Garoppolo had missed Adams on a deep shot:
And here's Adams as he got to the sidelines two plays later after the Raiders turned it over on downs:
I'm not a professional lip-reader but it appears he said, "I'm tired of this f--king bullsh*t."
After the game, Adams ran directly into the tunnel and back to the locker room without shaking hands or meeting any of his opponents. He was clearly furious.
Despite running free in the Lions' secondary several times on the night, he finished with one catch for 11 yards on seven targets. So far this year, Adams has 47 catches for 539 yards and three touchdowns. Not the campaign he was hoping for. With the loss, the Raiders fell to 3-5 on the season.
Given how bad things are the heat will certainly be turned up on head coach Josh McDaniels and Garoppolo. Meanwhile, Adams is in the second season of a five-year, $140 million deal. He's one of the NFL's best receivers and he's stuck on a team going nowhere.