Michigan Players Paid Homage to Jim Harbaugh's Suspension in First Game of Season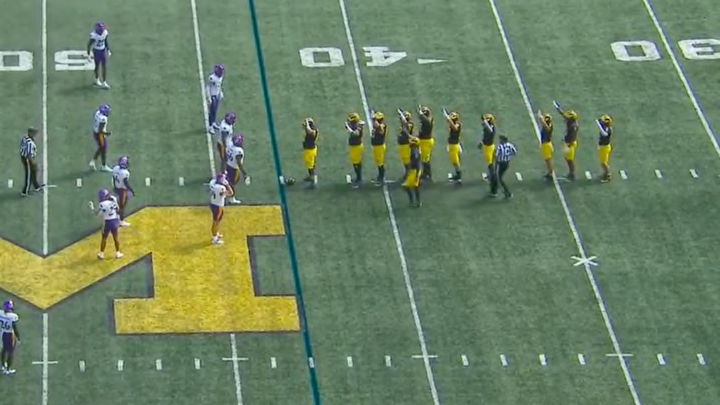 Michigan-East Carolina /
University of Michigan head coach Jim Harbaugh will be absent for the first three games of his team's season after an extended battle with the NCAA ended with a "self-imposed" three-game suspension. Over the offseason the NCAA claimed Harbaugh lied to investigators over an alleged recruiting violation from back in 2020 where he bought two recruits cheeseburgers when he was not allowed. After a lot of hubbub Harbaugh and the NCAA eventually came to a settlement where he would be suspended for the first four games of the 2023 season, but that settlement was not accepted by the investigative committee, so the three-game self-imposed suspension happened instead.
Michigan players are not pleased about what happened to their head coach and paid homage (I guess?) during the first quarter of their season opener against East Carolina. After breaking the huddle the whole offense stood in a line and held up four fingers (after Harbaugh's No. 4 he wore at the university) before scrambling into position to actually run the play.
It is all very... dumb. It's dumb that all this happened to Harbaugh over the purchase of two burgers. It's dumb that Michigan is treating him like some kind of fallen hero and pulling this stunt during a game. It's less dumb that starting QB JJ McCarthy showed up to today's game wearing a backwards Harbaugh jersey with the word "free" taped above his name, because we can admit that goes pretty hard, but nevertheless-- a little dumb.
Absurd from top to bottom. Maybe the burgers will be what finally pushes Harbaugh out the college door and back to the NFL.