Latest NFL Leads
Michael Irvin Was Kind of Out of Control During the Cowboys - Saints Game on NFL Network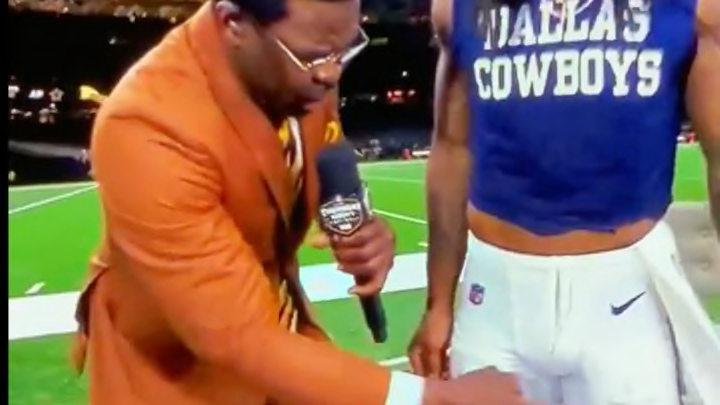 The Dallas Cowboys beat the New Orleans Saints, 27-17, on Thursday Night Football to kick off week 13. With the game on NFL Network, Michael Irvin was there, technically as a media member. It quickly became apparent that Irvin cannot physically act in that capacity when his old team is involved. It started early wtih Irvin greeting the Cowboys as they headed to the locker room after warmups with Irvin embracing CeeDee Lamb.
While this is not the first time we've seen Irvin interacting with TNF particpants before a game, we've never seen him in a suite during a game. Here he is talking about someone letting the Cowboys win the Super Bowl. The video was posted by Annie Apple, who was in one of the Saints suites with Malcolm Jenkins' mother.
With time winding down and the Cowboys trying to run out the clock Irvin was shown talking to Dak Prescott on the broadcast.
Then after the game the NFL Network crew spoke with CeeDee Lamb. Irvin was very excited to show off Lamb's pads which led to a lot of touching below the belt.
And then Irvin was shouting into the crowd as security was aparently kicking out Cowboys fans.
Just an incredible performance from Irvin start to finish. Name one person who loves the Dallas Cowboys more than Michael Irvin.