Michael Carter II Got Away With Blatant Pass Interference Against the Patriots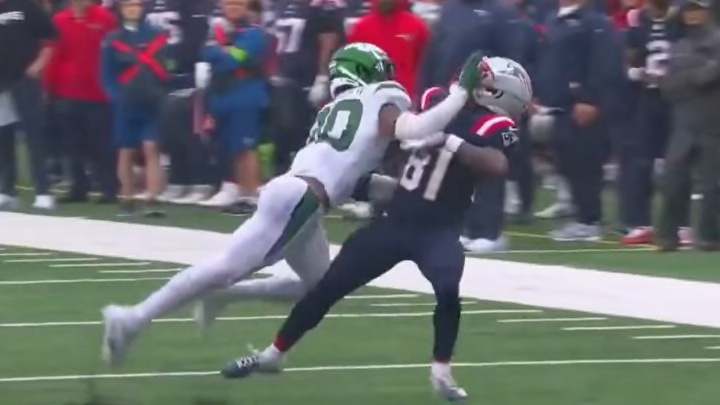 The New England Patriots took a 10-3 lead into the half in Week 3 against the New York Jets. It could have been more, but the Pats missed an very long field goal very badly as time expired in the first half. Oh, and the officials decided not to throw a flag on this play where Demario Douglas was tackled by a Jets defender while the ball was still in the air.
For me, it's not Michael Carter II's tackle that makes this a truly horrible missed call. It's actually the fact that he kind of slaps him in the face on the way to the tackle. There's one place you're not supposed to put your hands on a football field and it's an opponent's face. It's this complete lack of control of his arm that makes it look like he has no control of his body whatsoever. The fact that the officials missed this call is hilarious.
Either way, what a bad missed call. The Patriots would have had the ball inside the 10 with time to run a few plays into the end zone. And if that didn't work they would have had a chip shot field goal attempt.
If the Jets are going to beat the Pats for the first time since the AFL merger (estimated) then this is the kind of call they need to continue to get.