Matt Eberflus Even Managed to Become a Punchline During a Rare Victory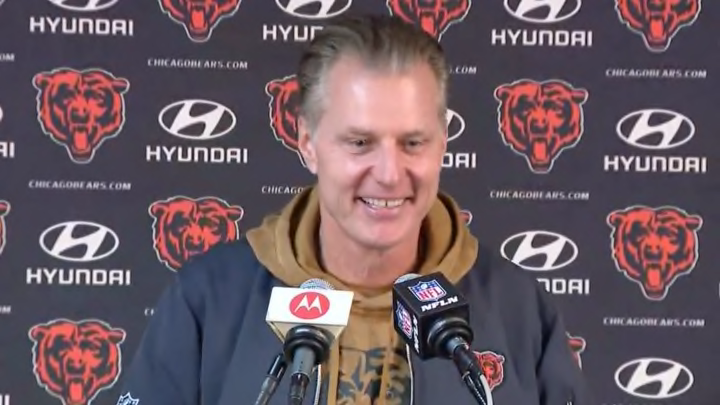 The Chicago Bears beat the Carolina Panthers, 16-13, on Thursday night. It was not pretty as both teams punted six times and neither Bryce Young or Tyson Bagent managed to pass for 200 yards. While the game pretty much lived up to the opposite of hype, Bears coach Matt Eberflus teased fans at halftime by saying the Bears were very excited for the second half because they had something up their sleeve. They then punted on three out of their next four possessions.
After the game Eberflus was asked about what was up his sleeve and responded a Michael Scott-esque comeback, saying, "I don't know, what's up yours?"
Over on NBC Chicago Lance Briggs noted that "'Flus had a different swagger about himself." This caused a great deal of laughter between Briggs, Ruthie Polinsky, Dave Wannstedt and Alex Brown as they wondered what exactly Eberflus had up his sleeve. Their most generous reading of the situation - through laughter - was that the Bears were saving whatever Eberflus was talking about for their game against the Detroit Lions.
The Bears had the ball five times in the second half. They punted on three of those posessions. They ran the clock out on their final drive of the game by getting one first down - their sixth of the half. Their one touchdown drive was 38 yards. They gained a total of 75 yards in the second half. And the Panthers, who are now 1-8, had a chance to tie or win the game in the fourth quarter.
Chicago is now 6-21 under Eberflus.