Matt Eberflus Says Bears Have Some Tricks Up Their Sleeves Moments Before Another Punt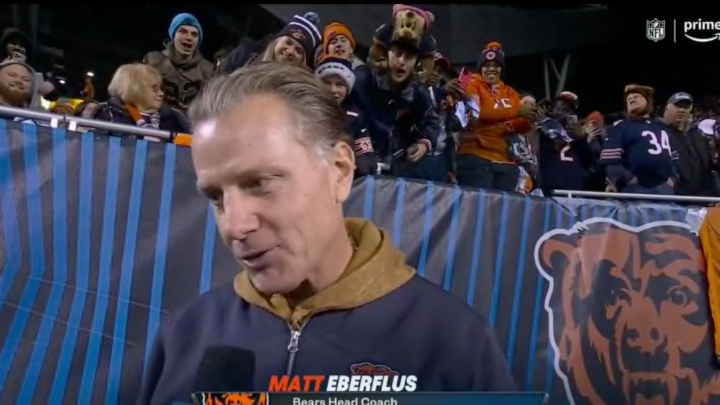 Matt Eberflus was interviewed by Kaylee Hartung at halftime of Amazon Prime's prized Chicago Bears - Carolina Panthers game. While his team trailed by one at the time, they had outgained the Panthers by over a hundred yards in the first half so there was some reason to be optimistic, which is exactly what Eberflus was when he told Hartung, "We're excited about this second half. We have some things up our sleeves."
Just a few minutes later the Bears offense went three-and-out and punted on their first drive of the second half. If the Bears don't do something cool, or if the Bears lose this game, well, let's just say the Carolina Panthers have a chance to do the funniest thing ever.
The good news is that they were playing the Panthers and they scored on their next drive thanks to good field position set up by Carolina's second punt of the first five minutes of the third quarter. It was the fourth consecutive possession where the Panthers punted.
So yeah, beating the Panthers will not do much to bolster Eberflus' reputation in Chicago. The team went 3-14 last year and they're barely on pace to best that record in 2023. But hey, if they beat the worst team in the NFL they will solidify what could be the top pick in the draft since they own Carolina's first rounder next April.