Matt Barnes Calls Out Patrick Beverley For 'Disrespectful' Chris Paul Comments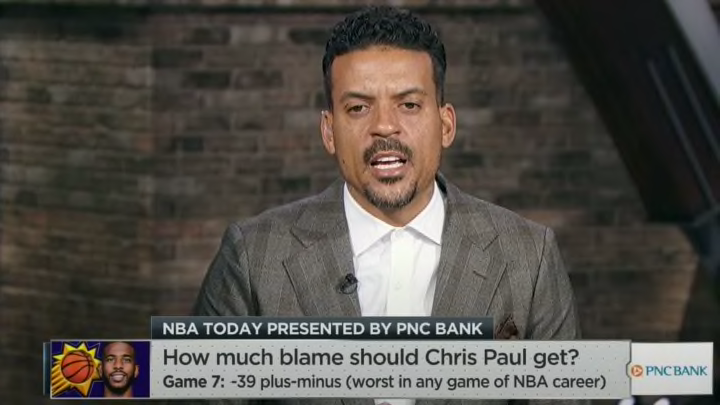 Matt Barnes /
Monday was quite the day for sports television as the Phoenix Suns gifted every basketball analyst endless talking points for the next four months after their catastrophic Game 7 loss to the Dallas Mavericks. In what proved to be a brilliant maneuver for engagement and content, ESPN invited Patrick Beverley to join the morning shows and unleash the hater inside of him for a national audience. In particular, Beverley had Chris Paul in his crosshairs and his viral moment came when he told Stephen A. Smith that Paul was a "traffic cone" on defense who should be on the receiving end of the slander usually reserved for common targets like Paul George or Ben Simmons.
Cue the, "He's out of line, but he's right" gif. Paul obviously has been a tremendous defender over his career but there's only so much a 6-foot, 37-year-old point guard can do against Luka Doncic. However, Beverley's recency bias showed in both the way he pointed out the decline on that side of the ball and his demand that Paul take heat. For all you can say about Paul, you absolutely cannot say he hasn't received more than his fair share of criticism. Chris Paul slander has been ever-present in NBA discourse for over a decade.
So Beverley's comments were amusing but they weren't entirely accurate. Matt Barnes noticed this and decided he had to say something during today's episode of NBA Today.
Well said by Barnes. We are all capable of criticizing CP3's flaws while acknowledging his greatness. Such nuanced analysis is not nearly as riveting as Beverley blasting Paul right after the worst loss of the future Hall of Famer's career, of course. But there should still be some appreciation for it.
Barnes was probably motivated to defend his longtime teammate but that doesn't mean he's wrong.