Martín Maldonado Had Tricks and Treats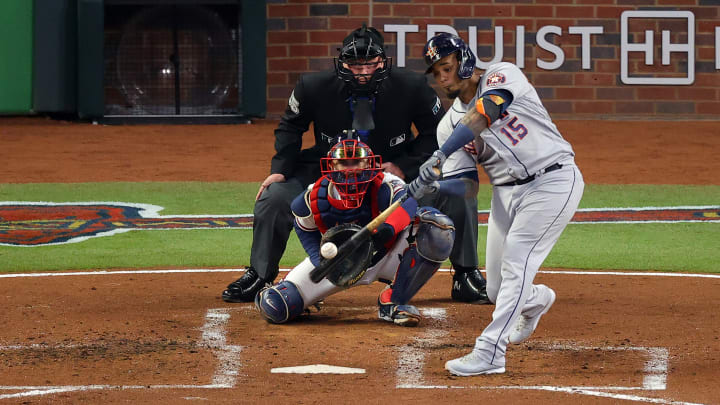 Todd Kirkland/GettyImages
Martín Maldonado, the Houston Astros' defensive-minded backstop, had been a glaring offensive liability all postseason. He carried an anemic .098/.159/.098 slash line into Game 5 of the World Series. A game prior Dusty Baker had dropped him to ninth in the order behind Zack Greinke. Desperate times call for desperate measures. Maldonado was back in the eight-hole on Sunday night battling to live another day. He fought like hell, doing little things that proved to be big things.
The boxscore figures won't blow anyone away. Maldonado finished 1-for-3 with a walk and three RBIs. But it was how and when he found ways to be productive. How every plate appearance came with a plan and execution. It was a championship performance hiding in plain sight and it helped propel the World Series back to Houston where the Astros can hand Atlanta a 3-1 remix on a 28-3 classic.
Maldonado's first at-bat came in the top of the second, minutes after Adam Duvall had blasted what appeared to be a title-clinching grand slam. Houston had answered with a run and had runners on second and third with one out. With the pitcher Framber Valdez on deck, it was incumbent on the catcher to put the ball in play or risk a non-crooked number and nothing more than a flesh wound for the home crowd. He did just that, battling to a 2-2 count before smacking a sacrifice fly to center field to make it a more manageable 4-2 deficit.
Things stood 5-4 Atlanta in the top of the fifth when Maldonado encountered a one-out, bases-loaded chance against A.J. Minter. In a thrilling bit of gamesmanship, the righthanded hitter stood essentially on the plate, daring Minter to throw an inside cutter but also eliminating the possibility of an inside cutter without the risk of plunking. The surprising stance and unorthodox plan worked to perfection and a five-pitch walk capped by a taunting fake bunt.
It was a spectacular mental move from a one of the best behind-the-dish thinkers in the game. A giant insult to injury after the ultimately self-inflicted wound of intentionally walking Alex Bregman. Maldonado returned to the dugout asking if his teammates enjoyed his Little League moment. Carlos Correa answered for them all in calling the trick "sick". Those teammates also enjoyed a clean RBI single off a suddenly productive bat in the seventh to add insurance.
Death by a thousand cuts takes time. It requires patience. Maldonado, who was as lost as a hitter can be, found the focus and creativity to inflict pain in small doses. The Astros' lineup, uncharacteristically quiet on Friday and Saturday night, banded together as a unit and overwhelmed. It had an unlikely catalyst and a lunch-pail type of vibe but was no less effective.
If it is to be a comeback from 3-1, there will be dozens of future clutch at-bats and loud thunder in run-friendly Minute Maid. Maldonado's gritty and gutty effort staving off elimination will likely be forgotten or serve as a mere footnote. But it will be the moment everything changed. When the line started moving and kept on moving. The small steps count just like the large ones.