Mark Jackson Said He Turned Down the Knicks Job, Reports Saying Otherwise Are False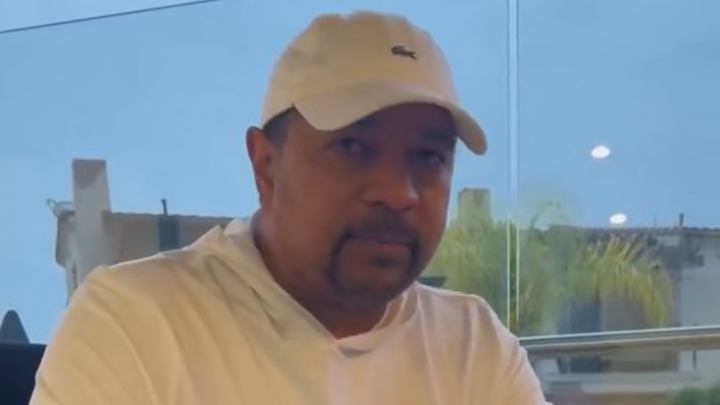 Mark Jackson /
On Wednesday, Andrew Marchand of the New York Post revealed some odd media news to the sporting world as he reported that Mark Jackson would not be filling in for Walt Frazier on New York Knicks broadcasts because he had been banned from the team plane. Marchand detailed how Jackson had been tapped by MSG Network as a color commentator to call a handful of games this season and the team's upcoming road trip was supposed to be his first few broadcasts. However, president Leon Rose nixed it by banning Jackson from the team plane, apparently because he has a longstanding feud with Knicks assistant Darren Erman. Erman worked for Jackson when the latter was head coach of the Golden State Warriors.
So, reading between the lines, it seems like MSG Network told the Knicks they'd have to deal with Jackson and the team rebelled by banning him from the plane. That meant Jackson would have to fly out by himself if he wanted to call the games, which was a step too far for a man still getting paid by ESPN. A lot of drama for a few spot appearances.
On Thursday Jackson decided to put his side of the story out there. He posted a two-minute video to his Instagram account explaining that he turned down the Knicks job a week ago and did so voluntarily. Without naming names he said he was tired of his name being slandered and vaguely criticized those who would speak negatively of him. Finally, Jackson admitted that he ignored calls from reporters asking for comment on the situation, seemingly because he thought it would go away if nobody knew what happened? That part is a little unclear.
A rather unexpected way for Jackson's name to appear in the news, huh? And now Marchand has been called out by two different personalities known for their work on ESPN in the last six months! Congratulations to him on this milestone.
Jackson's denial is strong but the fact that he neglected to even mention the other details in Marchand's report leaves a lot of room for speculation. It would be very Knicks to have an internal rebellion over a color commentator and a decade-long beef with an assistant coach, after all. And getting banned from the team plane is an awfully specific aspect of the story that Jackson could have easily snuffed out in the above video. But he did not! Very interesting.
Regardless, it seems nobody will be hearing Jackson on the airwaves this season.