Marcellus Wiley: The Chiefs' Super Bowl Window is Closed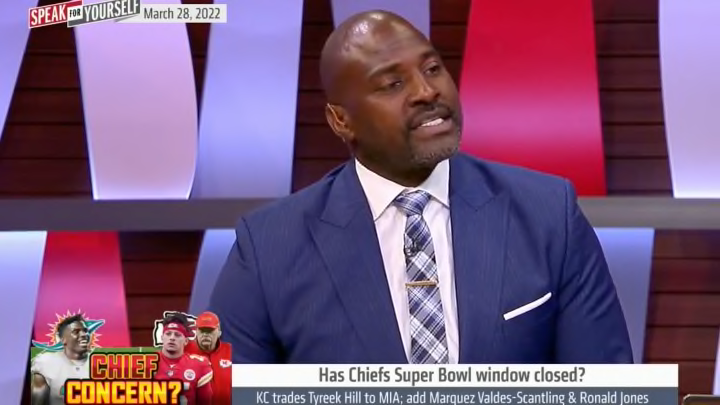 Marcellus Wiley /
The Kansas City Chiefs shipped off a significant component of their Super Bowl-winning offense last week, trading Tyreek Hill to the Miami Dolphins in exchange for a boatload of draft picks. It was a move primarily driven by Hill's desire to get paid like one of the top receivers in the NFL and the Chiefs' unwillingness to meet his price because they already owe Patrick Mahomes half a billion dollars.
There is absolutely a certain upside to this deal for KC. Contending teams with high-priced quarterbacks need big-time contributors on rookie contracts scattered throughout the roster to stay contenders. The more picks the Chiefs have, the more shots they'll be able to take at finding such contributors. And while KC will never be overflowing with cap space with Mahomes on the books, the team will certainly have more flexibility in that regard without also paying Hill top dollar.
The fact remains, though, that the Chiefs had to trade the best big-play threat in the entire league after he posted another 1,000-yard campaign with double-digit touchdowns and triple-digit receptions. It will hurt their offense, and it will absolutely hurt Mahomes, who has enjoyed Hill's presence down the field for his entire professional career to this point. There are those who believe that the former MVP will not miss a beat. And then there are those who think the corresponding decline in play resulting from Hill's absence will close the Chiefs' Super Bowl window.
I present such a person to you in the form of Marcellus Wiley, who declared the window shut on today's edition of Speak For Yourself across from Emmanuel Acho.
If one really thought lowly of Mahomes' college tape then one would be inclined to agree with Wiley. His reckless pursuit of big plays came back to bite him often this year and that was largely with Hill lurking somewhere downfield, ready to come flying in from off-screen and place himself directly underneath a Mahomes bomb. And if Mahomes is not immaculate, then the Chiefs aren't good enough to win the Super Bowl, as apparently evidenced by their failure in their second Super Bowl appearance after winning in 2019.
But also, are you really gonna doubt Mahomes like that? He certainly has his flaws and absolutely has regressed since his perfect debut season. His second-half meltdown against the Bengals this year was bizarre and impossible to see coming after he had played 10 quarters of effectively perfect football to that point. But the rule of thumb in the NFL is simple: if you have a top-five QB, you have a shot at a Super Bowl. The window is always open to varying degrees if a team has that box checked.
Is the Chiefs' window as open as it was this time last year? No. The AFC is suddenly overflowing with good quarterbacks and better teams. Losing Hill will entirely change how KC's offense looks. But the window will never be shut as long as Mahomes is under center. That's the reality when a roster boasts a 26-year-old superstar who already has an MVP, Super Bowl MVP, and championship ring hanging around his trophy case.