'ManningCast' Ratings Don't Matter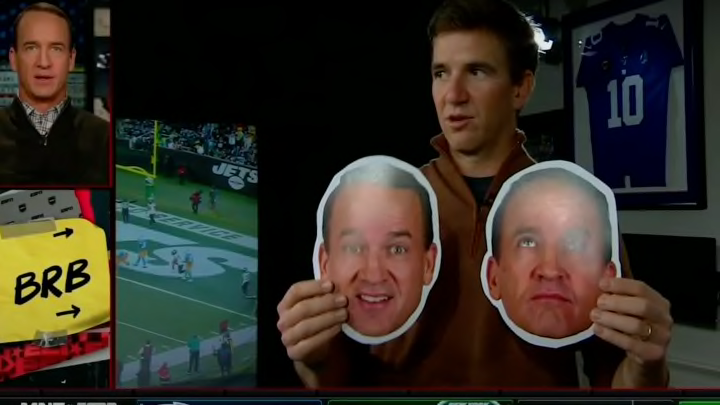 The ratings for the ManningCast are getting dangerously low according to Pro Football Talk's Mike Florio. This morning PFT published an article putting the poor ratings into context using numbers and percentages that you may find shocking. According to Florio the ManningCast now only draws about a million viewers a week and only accounts for about six to seven percent of the Monday Night Football audience, which is down considerably from their peak back in 2021.
The numbers are so low right now that at some point in the not so distant fugure the total viewers for a ManningCast could come in blow a million. That's right. We're talking high six figures. Why even bother at that point, right?
Wrong!
Do you want to know a secret? The ratings don't matter for the ManningCast.
I know, I know. Ratings are the only thing that matters. That's why we talk about them. That's why football is crown emoji. Becasue ratings are important and there is nothing networks like more than sending e-mails telling people who cover sports media that ratings are higher than they have been in the last [X number] months!
But the ratings don't matter for the the ManningCast. Peyton and Eli can Zoom each other in their man caves on live television for as long as they want no matter how many people watch. Why? Becuase ESPN gets to be in business with Peyton Manning, which is the one thing that every network and streaming service wants more than anything.
There's a reason that Peyton Manning has been on television nonstop for the last decade or so. He's one of the best and most famous football players to ever live and he's kind of funny. Advertisers love working with Peyton Manning. Everyone wants Peyton Manning. ESPN has Peyton Manning. If he wants to watch football while his brother sits in his basement in another state and makes fun of his forehead and athleticism on national television, then that's what he gets to do. And ESPN has him, which means when they make their pitch to advertisers they get to point to a picture of Peyton and maybe he'll even show up and shake some hands.
And on top of that the ManningCast has a certain prestige that nothing else on ESPN has, despite the fact that it's basically a live video podcast about Monday Night Football. Even when the games are bad it provides extremely high-profile celebrities a chance to do something fun and different and they don't have to leave their home to do it.
Peyton and Eli are there for three hours to watch the game and guests can come on for five minutes or an hour. They can talk about their careers or the game. They show up late or leave early and no one cares. It doesn't matter. ESPN has a show they get to sell that's hosted by Peyton Manning and sometimes Barack Obama or The Rock will stop by to chat. This week Arnold Schwartzenegger appeared alongside his donkey.
Considering the only other highlight generated by the Jets-Chargers game was a penalty, it seems like this alternative broadcast is actually kind of necessary.
So while the numbers for the ManningCast may dwindle as they simulcast the game on ABC, ESPN and ESPN2 this season, Peyton and Eli are here to stay as long as they want. Even if the numbers drop below a million viewers.