Officials Somehow Didn't Flag L'Jarius Sneed for Taking His Helmet Off After Controversial Call in Vikings-Chiefs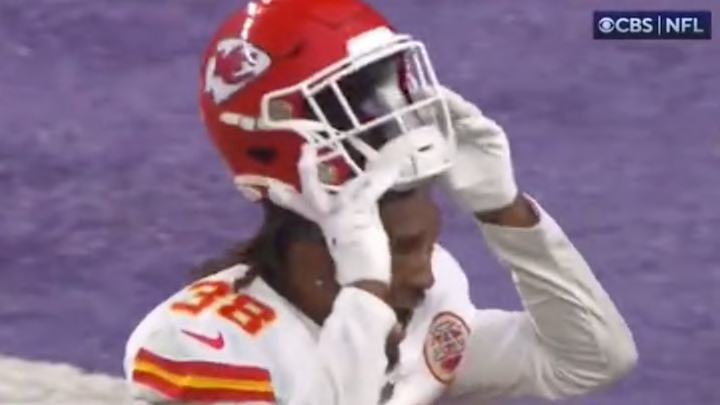 Minnesota's efforts to make a late-game comeback against the Kansas City Chiefs came down to a 4th-and-12 just outside the redzone with 4:54 to play. Kevin O'Connell rightly deduced that he needed to go for it and dialed up a play that saw Kirk Cousins, under heavy duress, loft a ball up to Jordan Addison in the end zone. It fell incomplete but the U.S. Bank crowd was momentarily delighted by the appearance of a yellow flag, presumably for pass interference against Chiefs cornerback L'Jarius Sneed.
In disbelief, Sneed clearly took off his helmet to argue with an official, which under the rules carries a 15-yard penalty. But it went uncalled and the original call was reversed. So the Vikings lost possession of the football instead of having the ball less than three feet from the goal line, Patrick Mahomes and company succeeded in running out the rest of the clock, and no amount of complaining could change any of that.
O'Connell was pretty aggressive in trying to get the officiating crew to call something — even a bad lip-reader can see he said that No. 38 took his helmet off but it was late and Taylor Swift wasn't even at the game so what does it matter anyway?
Minnesota is now 1-4 and a full three games back of the Detroit Lions in the NFC North and chances of a wildcard berth are dwindling. They have major, perhaps unfixable problems, but in this case you can understand why they and the fanbase might have some notes for the stripes.