All the LIV Golfers Will Swarm the 18th Green if One of Them Wins the Masters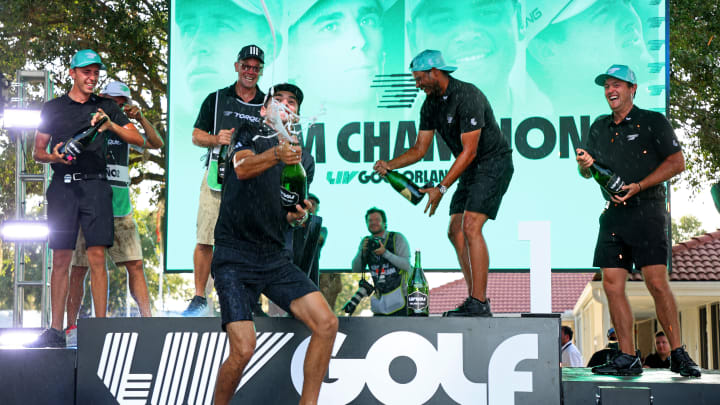 LIV Golf Invitational - Orlando - Day Three / Mike Ehrmann/GettyImages
It is Masters week and 18 of the LIV golfers will be at Augusta making things uncomfortable for everyone like the dangerous nights crew showing up at the Blue Dolphin for some sloppy steaks. According to Greg Norman, they going to show a unified front this weekend. If one of them wins, they all win. In an interview with FOX Sports Australia Norman says that if one of the LIV guys wins, the rest of them will be waiting on the 18th green.
"There's talk in our teams all around here, there are 18 or us LIV guys at Augusta and if one of the guys, no matter who it is, they are all going to be there on the 18th green, they are all going to be there, and that just gives me goosebumps to think about," he said. 

"When you walk up 18, your caddy hugs you then you see your wife or your mum and dad. Now to have those 17 other guys there, that's the spirit we want," he said. 

"That's what these guys talk about. They are saying no matter who wins, no matter who is in that position, we are going to be there."

"And that just gives me goosebumps to think about."
What a special moment. Just you, your loved ones, an 17 other independent contractors who you may or may not have any type of close personal relationship with. I'm sure that this is exactly the kind of thing that Bryson DeChambeau and Brooks Koepka are interested in. Imagine Koepka winning the Masters and suddenly during the happiest moment of his life he's got to embrace DeChambeau becuase it was determined to be good PR.
Anyway, it's something to keep an eye on if any of the LIV guys are in contention on Sunday.