LIV's Big Media Rights Play? Paying Fox Sports For Air Time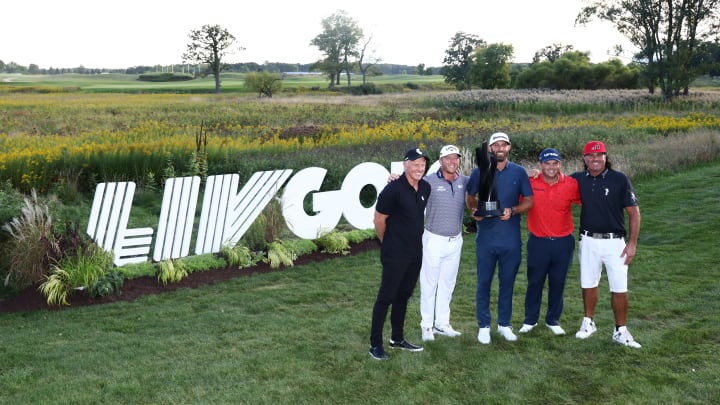 Joe Scarnici/LIV Golf/GettyImages
Less than two weeks ago, LIV Golf commissioner and CEO Greg Norman said there was a feverish bidding war underway for his rogue league's media rights with four different networks. So we can only wonder what the other three offers were after a late-night scoop from Golfweek's Eamon Lynch informing us all that LIV is on the cusp of paying Fox Sports 1 to air its tournaments.
A well-placed industry executive says LIV struck out with approaches to multiple broadcasters, including NBC, CBS, Disney, Apple and Amazon, and that Fox Sports got involved only at the behest of Lachlan Murdoch, the executive chairman and CEO of Fox Corp. Last month, Sports Business Journal reported that Jared Kushner, the son-in-law of Donald Trump, had been calling broadcasters trying to generate interest in a LIV television package. In 2021, Kushner's private equity firm, Affinity Partners, secured $2 billion in funding from the Saudi Public Investment Fund.
Completely normal stuff. Not a single thing that jumps off the page there.
Obviously, this is not the lucrative deal LIV wanted and all but promised to get with its lofty stated goal of taking the PGA Tour on in match play and emerging victorious. There's an insignificant portion of our audience that revels in anything this renegade outfit does on the way of fumbling the bag, so with that in mind, here are further delicious details.
LIV requested a rights fee for year two of any deal and a guaranteed time slot on network television but both proposals were rejected by Fox, according to a source familiar with the specifics of the conversations. It is believed Fox has offered to re-evaluate network placement at a later date. LIV will also be responsible for the production of its tournament broadcasts and for selling commercial sponsorships during its time slots, two tasks that would usually fall to a broadcast partner.
Things could definitely get better and a more traditional deal could present itself in time for next year. And honestly it doesn't seem like spending a boatload of money with a plan to recoup it is part of the financial plan at LIV. Which, again, seems fine.
It is pretty crazy, at least at this point, to realize a bunch of the best golfers in the world put their careers in serious jeopardy for an outfit relegated to pay to put its events on cable television. On the other hand, we feel very confident things will get crazier. LIV Golf is truly like a Jelly of the Month club, a gift that keeps on giving the whole year round.