Las Vegas Raiders Owner Mark Davis Is Ready to Play Without Fans, But Is Anyone Else?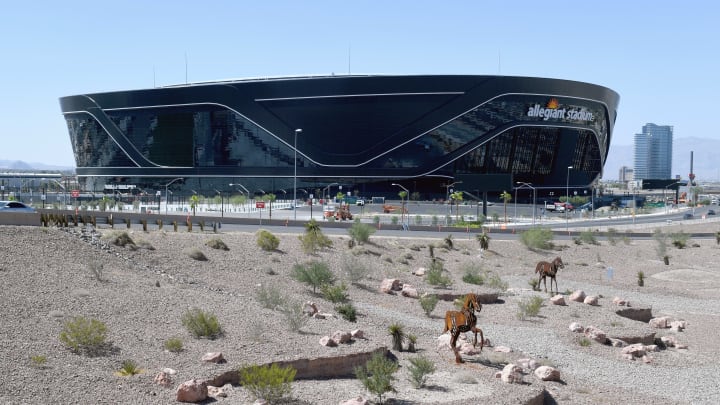 Los Vegas Raiders stadium in the desert. / Ethan Miller/Getty Images
The Las Vegas Raiders will most likely wait a year to show off their shiny new stadium. Owner Mark Davis seems to favor no fans to some fans after the league agreed to close off the first eight rows of seats to keep distance between players and fans that could possibly attend games this season. Via ESPN:
"Davis said the Raiders' idea of leaving the seats for fans and erecting hockey-style plexiglass around the bottom of the stadium to separate fans from players on the sidelines was "shot down" before the vote."
Give Davis a salad bar buffet sneeze guard or give him empty seats. Davis told ESPN that no fan is more important than any other, no matter how high their PSL. He also said that if there were no fans, he would also stay home because he is not essential.
Davis added that the league now had three options - push forward and see what happens, delay and shorten the season, or cancel the season.
Honestly, Davis seems to have as firm a grip on this situation as anyone at the NFL. Players rebelled via Twitter over the weekend, calling out the league for not having suitable safety measures in place as players start to report to camp this week. It seems they are not going to accept option number one, which leaves figure something out or lose a season.
With the extra time the NFL has had to plan for the season, it would be devastating if they had to cancel any games. Just a few months ago it looked like they had an advantage over other sports and they did nothing with their time to plan and prepare. Now the other three major American leagues are about to return and the NFL is on the brink of a missed season.