Monty Williams Was Heated After Lakers Shot 46 Free Throw Attempts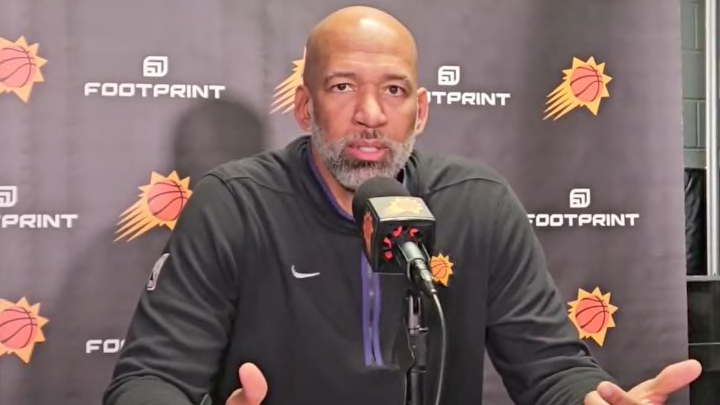 Monty Williams /
Last night was not a good night for the National Basketball Assocation's referees. Multiple "wow, that's bad" mistakes were made over the course of the evening in several different games. In the case of the Los Angeles Lakers-Phoenix Suns contest, those mistakes were made over the course of 48 minutes. It resulted in the Lakers shooting 46 free throws, tied for the fourth-most any team shot in any one game this season. Monty Williams was hot about that afterwards.
Speaking to reporters after his team lost in part due to the generous whistle the Lakers received, the Suns coach took one question before going on a brief rant about the disparity in free throw attempts (Los Angeles shot 26 more than Phoenix) and walking out.
Yeah, that's pretty bad! The show of emotion from Williams is still a bit shocking given he is usually even-keeled after wins and losses. But he is clearly reaching the end of his rope given this is the second time he's gotten this mad about free throw disparity in the last eight days.
Wednesday was just not a great look for the league. Mark Cuban is out here tweeting that he saw maybe the worst officiating mistake ever and the Mavs are filing a formal complaint as a result. Ben Taylor (the target of recent Fred VanVleet criticism) admitted to reporters after the Hawks-Wolves game that his crew missed a foul on the final shot of the game, which is even worse given they were falling for Trae Young's BS all night. And then the Lakers, a below-average team with only one high-volume free-throw shooter on the floor, got 46 free throw attempts in regulation.
The playoffs are starting soon and the microscope will be on everybody. If the refs don't clean it up this won't be the last post you see concerning a coach flipping out about the whistle after a loss.