Kings Totally Screwed by Horrendous No-Call vs. Warriors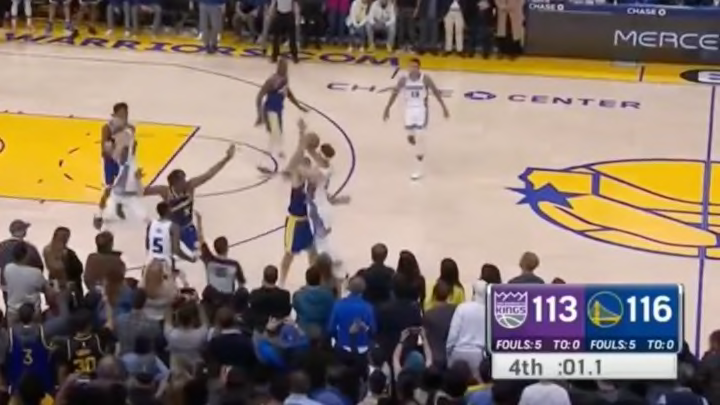 "Not a foul" /
The Golden State Warriors enjoyed a big comeback win over the Sacramento Kings on Monday night at Oracle Arena. The end of the game got real weird, though. Stephen Curry hit a three-pointer to put his team up three with less than 90 seconds to go before the teams traded baskets and the foul game began with Golden State up one. But the Kings apparently forgot they needed to foul and let Curry run around with the ball until there was one second left.
Curry hit his two free throws, which sets our scene. The Warriors are up three with 1.1 on the clock. The Kings inbound the ball to Kevin Huerter for the game-tying three-point attempt. And he got absolutely mugged by Klay Thompson as he went up for his jumper.
No call. Game over. Warriors win. The refs have done it again.
It was a terrible no-call. Huerter should've been shooting free throws to tie the game. Huerter is only hitting 71 percent of his attempts from the charity stripe this year so making three in a row would've been far from a guarantee. But they should have gotten the chance to find out!
Now, this call had nothing to do with the sizable lead the Kings built and subsequently lost. Nor did the refs prevent Sacramento from fouling with nine seconds left on the clock instead of one. The Kings did this to themselves. But this is, perhaps, the worst and most consequential non-call of the season so far and should be called out as such.
On a side note, it is rather amusing for the non-Kings fans out there to see the officials do Golden State this favor by pocketing their whistles after Curry got T-d up for a total meltdown following a no-call on himself earlier in the night.
Not to mention the officials reviewed a similar play where Jimmy Butler was called for a foul on Steph last week and reversed course on a play with much less contact just last week. Curry wanted that call too. Funny how that works.