Khabib Nurmagomedov Not Wanting to Fight Conor McGregor is Optimal for UFC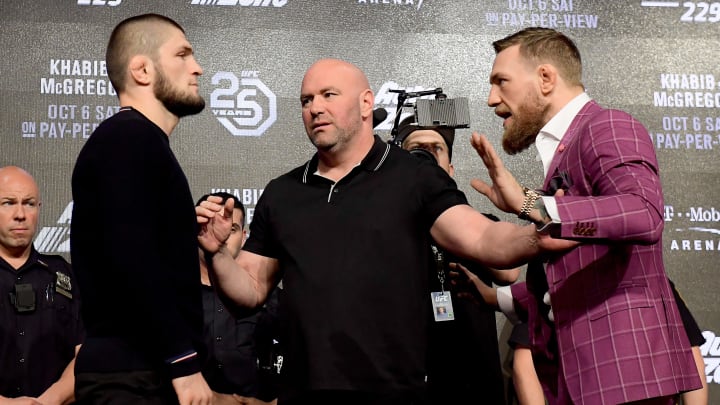 The halted rematch of Khabib-McGregor is ideal for the UFC / Steven Ryan/Getty Images
A sequel to the UFC's most-bought pay-per-view isn't expected soon. Khabib Nurmagomedov's manager, Ali Abdelaziz, told ESPN last night Nurmagomedov isn't interested in a rematch with Conor McGregor. That likely sent disappointing vibes to UFC management — though it shouldn't have. Nurmagomedov's current stance on the fight is the best-case scenario for the UFC.
UFC president Dana White called McGregor-Nurmagomedov II the fight to be made after McGregor's blockbuster return win over Donald Cerrone. In a vacuum, White would be correct. The paradigm-shifting fight sold 2.4 million pay-per-views, which is 800,000 more than the sport's second highest-selling event, Diaz vs. McGregor 2. McGregor is the UFC's definitive top star, thus avenging his most embarrassing loss is the easiest fight to promote and sell. But long-term, which is the key, this rematch occurring soon would be a disaster for the UFC. The results would mirror the first one with McGregor getting demoralized into obscurity.
McGregor lost to Nurmagomedov on October 6, 2018. He returned to the octagon on January 18, 2020 against Cerrone.
The UFC made no headlines beyond MMA-specific programming and websites between McGregor's crushing loss via Nurmagomedov and his return last month. Whether the UFC is relevant or not is merely dependent on McGregor. A rematch against an opponent he can't match up competitively with would bring the latter.
There is no number two to McGregor anymore in terms of drawing power in the UFC. The margin of interest between McGregor vs. non-competitive fighters compared to that of equal-to-superior isn't drastic. That's especially true under the new pay-per-view model that requires a buyer to subscribe to ESPN+ to have access to buy the event. McGregor-Cerrone, to no surprise, is the UFC's most successful pay-per-view event under its ESPN deal with around 1 million buys. ESPN and the UFC can build on that if McGregor remains active and victorious. Thus victories over lesser opponents far outweigh another humiliating McGregor loss.
It's all McGregor to the casual fan. McGregor's value above the competition is equitable, if not greater than Tiger Woods' and Floyd Mayweather's was at their peaks.
The UFC second-most known fighter, Jon Jones, was showcased last night and was yet again victorious. You may have not have heard about it because few non-MMA personalities even mentioned it.
Barring settling for just the MMA crowd, the UFC needs McGregor to fight and win multiple times per year, which he can do if he stays far away from Nurmagomedov. Oddly, Nurmagomedov's lack of interest in the fight is the only way to prevent it. We know White wants it, and presumably, McGregor's competitive nature wants it and wants it soon.
This fight may eventually need to take place to settle the real hatred the two fighters have for each other. But that doesn't need to be soon for McGregor's sake and the UFC's.
McGregor can fill up the next two years with interesting fights where he's the favorite. That model works — see Mayweather's (who was much more dominant at his craft) unchallenged, megabucks run.
If McGregor and White are so hell-bent on not booking average opponents, there are compelling, yet winnable options: Nate Diaz III, Jorge Masvidal, and Tony Ferguson. A rematch with Khabib Nurmagomedov is not that. It'd generate slightly more buzz, sell a tad more pay-per-views (different model than the first fight), and create a few more headlines. But it would also send McGregor on another hiatus filled with retirement rumors, which would be the worst-case scenario for the UFC.