Kevin Clark Leaving The Ringer To Create Digital Show for Omaha and ESPN
This Is Football debuts Sept. 6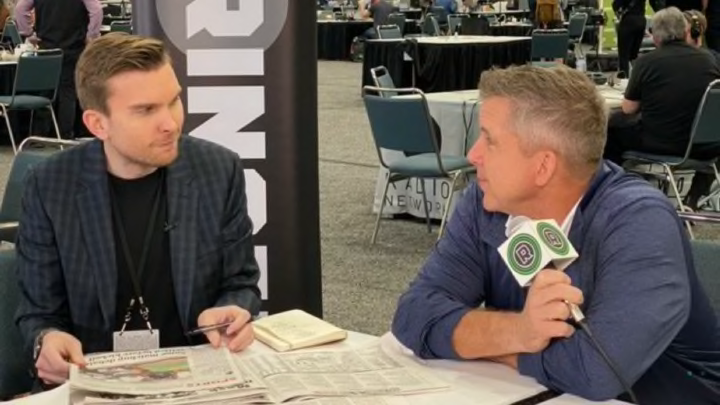 Kevin Clark is leaving The Ringer to create a digital show and podcast for Omaha and ESPN, The Big Lead has learned. This Is Football debuts Sept. 6 and will have three weekly episodes on ESPN YouTube and all podcast platforms throughout the NFL season. It promises in-depth interviews with some of the sport's top players, pundits and coaches and to unearth some never-before-heard stories. Clark, a versatile NFL voice who is as comfortable in front of the camera as he is behind the keyboard, generated interest from a few other networks over the past few years. All of this excitement has turned him into a meme.
"Getting to do this show is a dream job for me," Clark told The Big Lead. "I've been doing the Nick Sirianni stare-and-cry move for the past few days, just so happy to get started. The people at Omaha are brilliant and I'm thrilled to be on ESPN's platforms, it all just seems to be a perfect fit. I think if people are familiar with my work (god help them), it won't be too different: A video and pod where we try to teach people about football, have players tell the best stories they have and find a way to expense coffee. The Ringer is the coolest place in the world to work and I'm beyond lucky to have spent seven years there–I'll love and talk to those guys forever. The bar for me to leave was ludicrously high but I think we'll be able to do something really cool here."
This Is Football seems to be the ideal canvas for Clark as it will allow him to creatively paint a bit outside the lines, mix newsbreaking interviews with more lighthearted bits, and to do it for a network that values such things. Omaha Audio, the digital podcast network of Peyton Manning's Omaha Productions, launched last summer and includes Bob Myers, Greg McElroy, Mina Kimes, and Cam Heyward. Omaha Productions has quickly established an impressive stable of top-tier NFL offerings like Monday Night Football with Peyton and Eli and Quarterback.
Clark has been with The Ringer since 2016 and previously covered the NFL for the Wall Street Journal, where he worked from 2010-2016. He's ubiquitous in the podcast space as a host and guest·— his Slow News Day did wonders for physical newspapers as props while drawing such A-list talent as Lamar Jackson, Josh Allen, J.J. Watt and Justin Herbert. A scout might call him a five-tool player and the diversity of his work across mediums and subjects is impressive. He's someone who will simply be doing a lot of stuff and doing it his way for a long time to come.
More immediately, he can tease two segments from This Is Football. One that tells the story of the game's biggest badasses and one that removes all the statute of limitations for a tale that couldn't be told but now can. So it sounds like that expensed coffee will have everyone loose and conversational.
This Is Football debuts Sept. 6 and will have new episodes Sundays, Wednesdays, and Fridays.