Kendrick Perkins Rips Grizzlies After Early Playoff Exit: 'You're Not Goons, You're Basketball Players'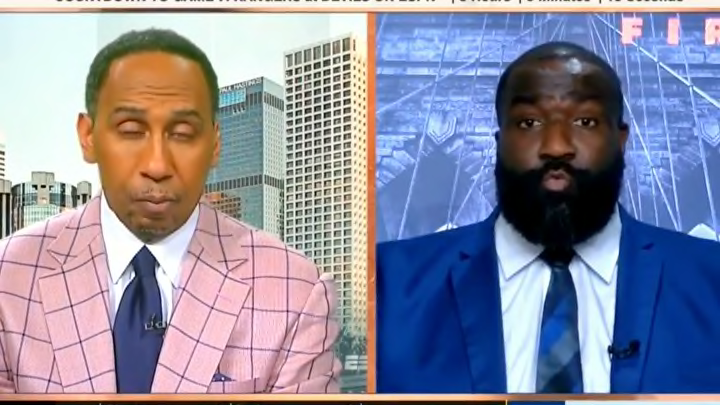 Kendrick Perkins and Stephen A. Smith /
To say a lot has changed for the Memphis Grizzlies over the last 12 months would be understating the matter quite dramatically. They started the season as everyone's favorite up-and-coming title contender, a popular pick to come out of the West and led by Face of the League candidate Ja Morant. Then eight months of tomfoolery and a "suspension" sunk Morant's stock in the public eye and Memphis proved to be... well, rather annoying as a team. They talked too much trash without having done anything to back it up and the Morant PR fire drill was so blatantly transparent it didn't really do much.
Then the playoffs began and Dillon Brooks, in particular, made things much worse by talking a big game before getting crushed by LeBron James and the Los Angeles Lakers. Memphis, seeded No. 2 in the West, were eliminated from the playoffs in a 40-point loss to a Lakers team that participated in the play-in tournament. It was basically a culmination of the Grizzlies' fall from grace this season and now they have a few months to reflect on how it all went wrong.
Of course the talking heads were not going to waste any time, which brings us to a pretty good Kendrick Perkins First Take diatribe that ends with the plea all Grizzlies fans will be making of their front office-- get some older guys in there to steady the ship because everybody in the locker room is a basketball player, not whatever they were trying to be this year.
It really is wild when you think about how far everything has come. A year ago this time we were all celebrating how fun the Grizzlies were and bemoaning the poor luck that was Morant's injury against the eventual champ Warriors. Memphis looked like they were set to contend for years. Now who knows what'll happen? Everything has gone off the rails in such a dramatic and destructive way that the team very well could strip the roster down to the studs and opt for a total reset around Morant. They probably won't but the fact that it's even on the table speaks to the situation.
More likely is they'll do what Perkins suggests here. Find a few veterans who can come in and set the tone. The tricky part will be finding the right vets who aren't going to cause issues with Morant but still manage to impress upon him the importance of, as Perkins put it, not acting like a gangster or a goon but rather a basketball player.
Much to think about for Memphis.