Denver Nuggets Have Now Earned the Right to be a Segment on 'Get Up'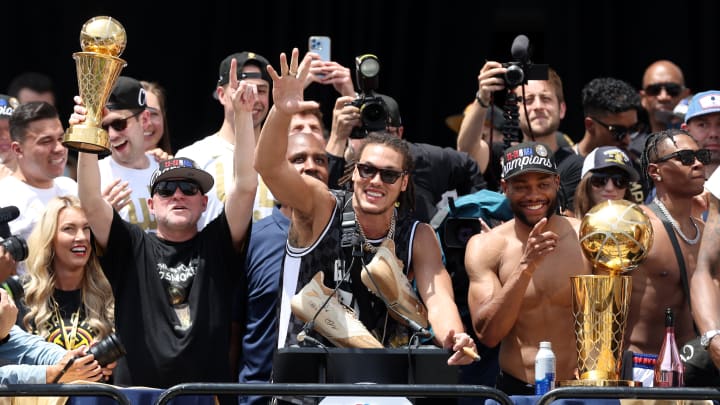 Matthew Stockman/GettyImages
The Denver Nuggets are NBA champions, which is pretty cool but the real prize here is that they've earned the right to be discussed on Get Up. This probably explains why coach/ombudsman Mike Malone went ham during the celebatory parade yesterday. No one can ever take either the memories of ascending to basketball's most sacred mountain top or the memories of some television analysts burping out a few seven-minute segments about his future roster construction or the Nuggets' likelihood of becoming a dynasty.
Sometimes, like Liz Lemon, you really can have it all.
Kendrick Perkins, who tends to find himself at the center of such things, delivered the news that Denver has now earned the right to have nationally televised games and be discussed on morning debate shows.
This has to come as a great relief to all people who allowed themselves to get mad about the big bad media machine and nebulous narratives instead of fully enjoying a magical title run.
It's kind of funny that fans, players and coaches can care so much about segment producing on national shows but at this point I'm left to conclude that they always will. If they are that important to so many important people, then by definition, they are important.
Even if I personally disagree that either of these things need to be earned. If a television partner thinks a game will be interesting and it works out schedule-wise, they can just put it on the air. If someone wants to walk into the Seaport studios at ESPN and fight for a Nikola Jokic segment, they can. The impetus is not on the team or player because there are so many other factors at play here — primarily what will bring the greatest ratings.
It'll be fun to discover together the next NBA team pissed off about their lack of reperesentation on the airwaves.