Mike Malone at Nuggets Championship Parade: 'We Some Greedy Bastards, Baby'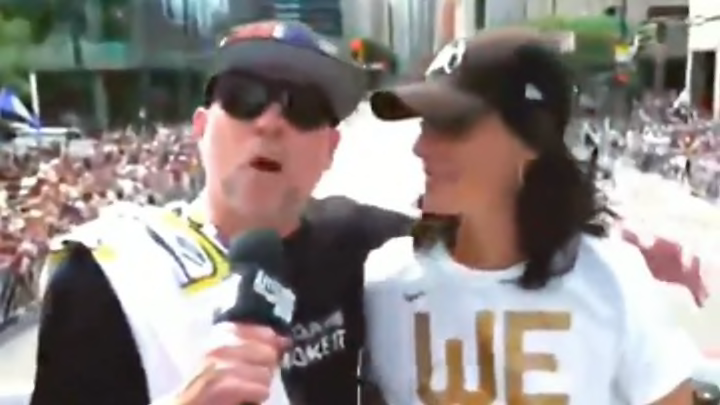 The Denver Nuggets had their championship parade on Thursday. Finals MVP Nikola Jokic showed up with his family despite his earlier objections. Nuggets coach Mike Malone was also on hand and in a very good mood. He was sporting a shirt with the Larry O'Brien trophy and his "put that in your pipe" quote. By the time the parade began, he got ahold of an Altitude Sports microphone to continue the dynasty talk he started after the team won Game 5.
"This is Mike Malone. Coming from downtown Denver on parade day and I am surrounded by 500,000 of my best friends. And my beautiful wife. I just want to say to Nuggets nation, eight years. For me. But 47 years for you. I appreciate your patience. This is a beautiful day and we love each and every one of you guys. What a great day to celebrate a championship, but we're not done yet. We some greedy bastards, baby. We're getting another one! And I'm out!"
Malone was also seen chugging a beer and throwing the can into the crowd. We may be looking at a Jokic-level performance from Malone at the parade today.
UPDATE: And here he is, the cock of the walk, spraying fans with champagne.
UPDATE 2: Malone dropped an f-bomb on NBA TV.