Juwan Howard and Michigan Suddenly Conflicted About Unwritten Rules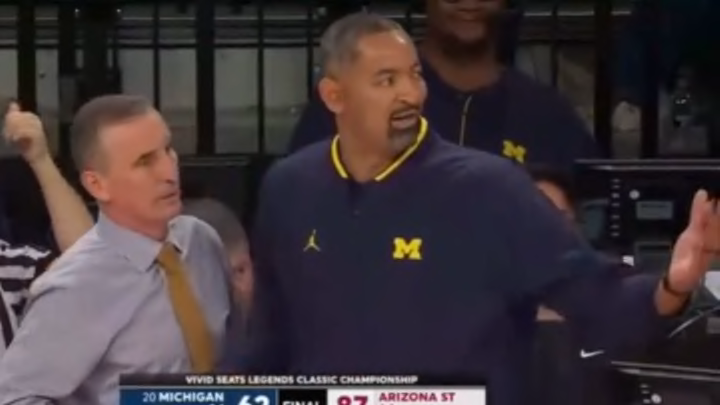 The unranked Arizona State Sun Devils blew out the 20th-ranked Michigan Wolverines, 87-62, in the Vivid Seats Legends Classic Championship at Barclays Center in Brooklyn on Thursday night. Michigan appeared to break some unwritten rules at the end of the loss which left Juwan Howard apologizing to Bobby Hurley in the handshake line while a scuffle broke out in front of the Michigan bench.
As you can see, ASU was trying to run out the clock when Dug McDaniel snuck up behind ASU's Micah Burno and stole the ball so he could attempt a three. Greg Glenn III cleaned up his miss to cut the Sun Devils' lead to 25 with 6.8 seconds remaining. Michigan proceeded to press as the clock expired.
Now, this might remind you of a couple things. Personally, I saw shades of Monmouth back in 2019, when a player had a similar steal then dunked the ball and proceeded to run down the court screaming, "I don't give a f---."
Of course, a more recent example of this type of situation took in February of this year when Juwan Howard got in the face of Wisconsin's Greg Gard and then literally hit an opposing coach in the head after the Badgers took a late timeout during a game Michigan lost by double-digits. Howard ended up getting suspended five games, while some thought he could be fired after the incident.
Any non-Michigan fan will have no problem finding the hypocrisy here. With the game decided Howard should have been very clear with his kids about when to turn off the TRY HARD switch. Instead Michigan has now embarassed themselves and come off as sore losers twice in Howard's tenure.