Justin Jefferson Somehow Doesn't Get Flagged For Hitting Referee With Helmet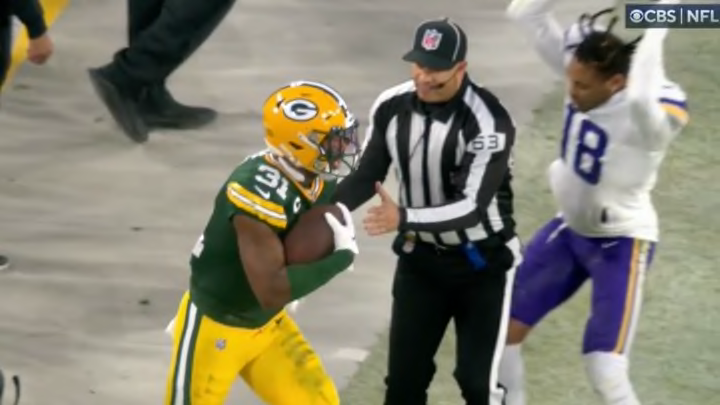 Justin Jefferson /
Sunday's game at Lambeau Field started off very poorly for the Minnesota Vikings as the Green Bay Packers scored on a kickoff return and a tipped interception in the first half. Things only got worse in the second quarter. Kirk Cousins threw another tipped ball interception that could have been prevented if Justin Jefferson didn't also slip on the play. Packers safety Adrian Amos returned the interception into Vikings territory, where Aaron Rodgers would throw a touchdown pass to go up 24-3 shortly thereafter.
A keen-eyed operator on the CBS broadcast noticed that Jefferson was very unhappy on that interception and threw a zoomed-in, slow-motion replay onscreen for the audience. Jefferson yanked off his helmet and came *this* close to slamming it onto a referee with full force. The superstar wideout managed to see the ref in front of him and pulled up a bit but still hit the ref with his helmet.
And was not flagged.
What a very understanding referee Jefferson almost nailed. Most officials have the flag in the air the moment they get touched outside of a play. Jefferson didn't just bump him, either. The ref clearly felt the contact because he turned around almost immediately afterwards.
Very fortunate for the Vikings that Jefferson didn't get thrown out, much less flagged for unsportsmanlike conduct.