Julio Jones' Trade Preferences Limit the Falcons' Options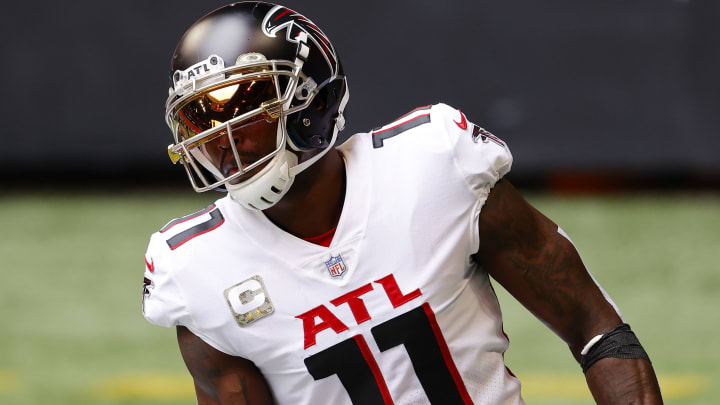 Julio Jones / Kevin C. Cox/Getty Images
Julio Jones is still a member of the Atlanta Falcons for now. The team continues to search in earnest for a trade partner, a process made more difficult when Jones announced on Undisputed that he was done in Atlanta. Still, for a receiver of his caliber, the Falcons probably have offers. They just want to find the right one that gives them the return they'd like in exchange for one of the best players to ever suit up for the franchise.
They also are trying to adhere to Jones' preferences. He's a beloved member of the organization and the Falcons don't seem inclined to ship him off to the highest bidder, hard stop. If that was the case a trade probably would have happened already. So far, we've only heard that Jones wants to play for a winning team that can contend for a title. Today, ESPN's Jeremy Fowler reported Jones would also like to play for a QB with a big arm.
The list of teams who are in a position to win right now and have a quarterback like that is not particularly long, especially given the ongoing dispute between Aaron Rodgers and the Packers. There's the Chiefs, the Ravens, the Bills, the Rams, and the Seahawks. There are some borderline options, like the Chargers (big-armed QB but not quite title contenders) or the Titans (a good team but Tannehill's deep ball comes and goes). Otherwise, that's pretty much it.
Then you start thinking about what those teams could actually offer and it becomes even more difficult to find an ideal trade partner. The Rams and Seahawks have mortgaged high draft picks for the last few years and don't have anything resembling a full asset cupboard. The Chiefs would have to get real creative to fit Jones' cap hit and don't really have any young players to offer on the side, which is reportedly something the Falcons are looking for. The Ravens don't tend to invest big assets in wide receivers and are not prone to giving away high draft picks for anybody at all. On paper, the Bills make sense but already have one elite and highly-paid receiver. They may not want to add a second to the cap sheet.
Ultimately, the Falcons don't have to listen to Jones. But so far it seems that they want to part on good terms with the receiver, and part of that will be shipping him off to a team he's excited to go to. As we can see, that's not going to be an easy balancing act.